Cardano 1.6.0: Daedalus 0.14.0 and Cardano SL 3.0.3 - Release Notes
Cardano 1.6.0
Mainnet Release Date: 14 August 2019
Testnet Release Date: 30 July 2019
Daedalus Demonstration Video
This video explains and demonstrates new features and enhancements in this release.
This release makes significant user interface changes which improve Daedalus usability, as well as a few new features:
Loading screens now have an animated Daedalus logo, as well as status icons which indicate when core system components are working correctly
Three new user interface themes have been added to increase user customization
The design of all modal windows has been updated for a unified look and feel
Improvements to the update system will help users who are having issues with older Daedalus versions to update to the latest version and resolve their issues
A new 'Wallet UTXO distribution' screen will help users understand how their funds are distributed.
This release also includes a number of small but important improvements such as a new help menu, new items in the diagnostics window, automatic scrolling to show error messages that are not in view, automatic language selection for fresh installations, links to support articles to help diagnose issues, timestamps for paper wallet certificates, and more. See below full details.
Daedalus 0.14.0
New features
Guided manual updates
Users who are not running the latest Daedalus version and are experiencing connection or blockchain synchronization issues will now be notified when a new Daedalus version is available and will be guided through the process of downloading and installing the update.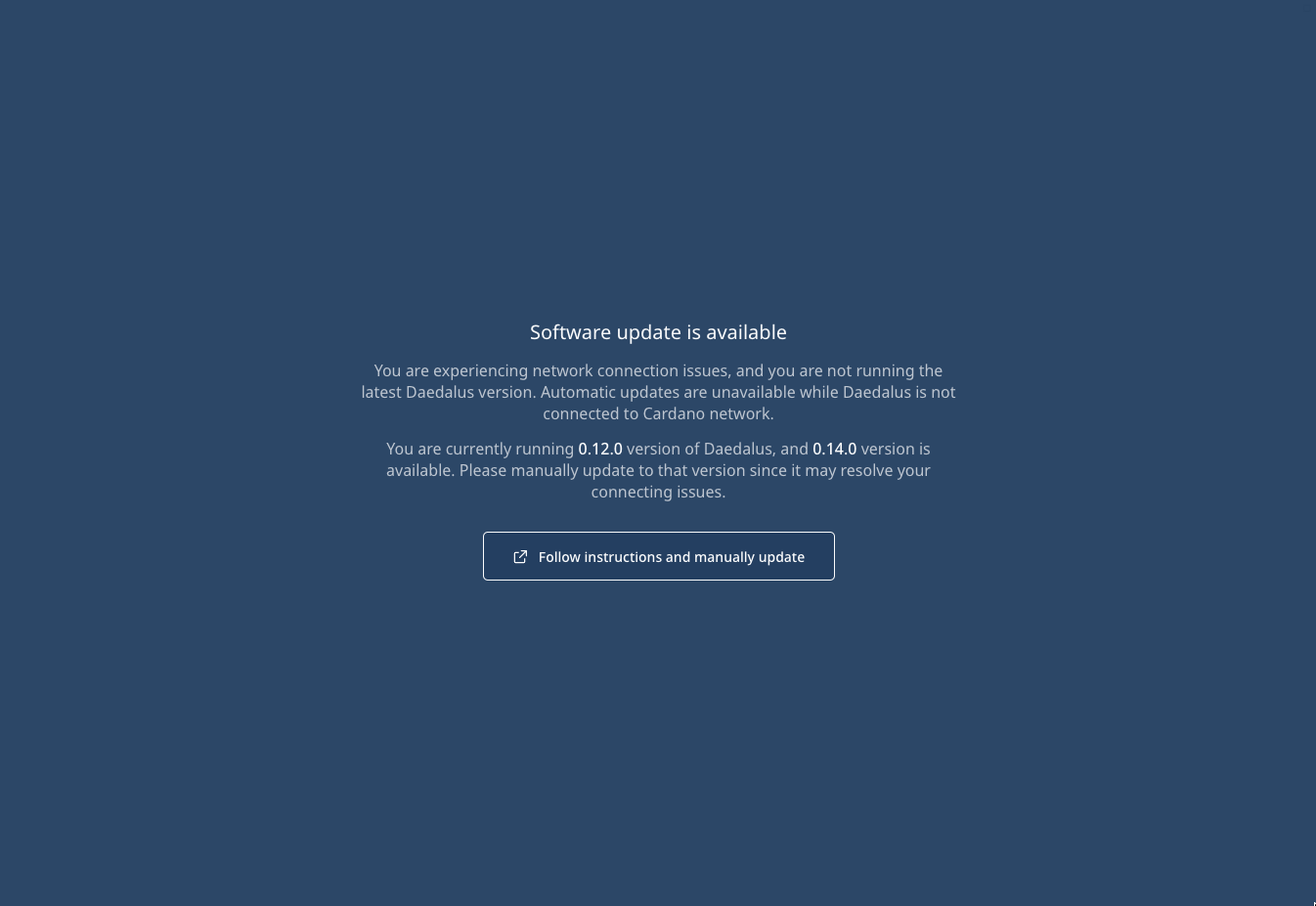 Wallet UTXO distribution screen
A new 'Wallet UTXO distribution' screen, accessible through wallet navigation under the menu item 'More', graphically represents the distribution of UTXOs (unspent transaction outputs) with different amounts of ada for a wallet in a histogram.
Status icons on the loading screen
The loading screen now has five icons which indicate the status of the Cardano node while connecting to the Cardano network and synchronizing with the blockchain. Icons are green when everything is functioning correctly and red when something is wrong, which will help to diagnose potential issues.
Animated Daedalus logo on the loading screen
The loading screen now has an animated Daedalus logo which acts as a loading spinner while waiting for blockchain synchronization to complete.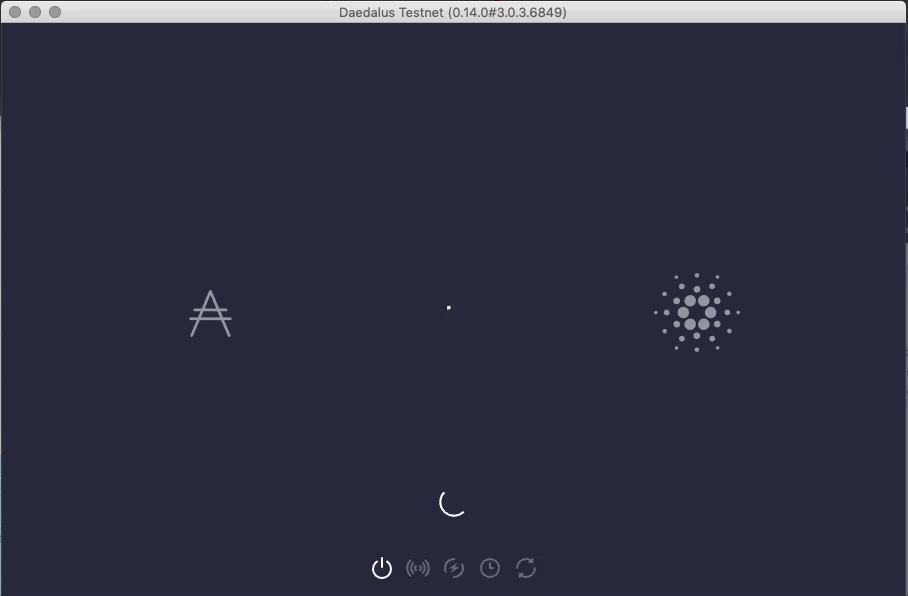 New user interface themes
Daedalus now ships with three new user interface themes, increasing the total number of available themes to six. Themes can be selected in the settings section of Daedalus.
Help menu
The application menu now contains a 'Help' section with the following new items: 'Feature Requests', 'Safety Tips', 'Known Issues', 'Download Logs' and 'Support Request'. It also contains items which were previously under the 'Daedalus' section in the menu: 'Blank Screen Fix' (previously called 'GPU Safe Mode'), 'Block Consolidation Status' and 'Daedalus Diagnostics'.
Automatic scrolling to show error messages
When error messages are displayed in a part of the user interface which is not visible, Daedalus will now automatically scroll to make them visible.
Log download status notification
Downloading of log files has been improved and will now show a notification about the status of packaging and downloading logs.
New icon for links to external content
Links to external content, such as support portal articles, have a new icon to differentiate them from links to content which is part of Daedalus user interface.
Automatic language selection
Daedalus now automatically selects a default language for the user interface during initial setup after a fresh installation, based on the language of the operating system. Users can still choose a different language during the setup or later on in settings. Supported languages are English and Japanese. For other operating system languages, Daedalus will default to English.
Support portal articles for connection and blockchain synchronization issues
Notifications for network connection or blockchain synchronization issues now include links to support portal articles as well as links for submitting a support ticket and downloading logs.

Unified look and feel of modal windows
Modal windows in Daedalus now have a unified look and feel. This affects the 'About' window, 'Block consolidation status' window and 'Daedalus diagnostics' window.
Timestamps on paper wallet certificates
Paper wallet certificates now feature a timestamp with creation date and time for easier identification. The timestamp is printed on the certificate and also included in the filename.
Improved 'Daedalus diagnostics' screen
The 'Network status' screen has been renamed to 'Daedalus diagnostics' and improved with new styling and the addition of 'System info' and 'Core info' sections. The 'Core info' section includes a path to the local state directory with a button which opens that directory. This makes the local state directory more easily accessible without the need to browse files and directories which are hidden by default by the operating system.
Blank Screen Fix
The option to disable graphics acceleration when a blank screen is displayed instead of the Daedalus user interface has been renamed from 'GPU Safe Mode' to 'Blank Screen Fix' to make it more easily understandable. The setting now also has expanded confirmation dialogs which explain how and when it should be used.
Fixed issues
Running Daedalus on Windows no longer requires administrative privileges
Daedalus used to require administrative privileges on Windows when starting. This is no longer the case. Administrative privileges are still required for Daedalus installation.
Automatically detected and fixed configuration issue
A configuration issue with TLS certificates which would prevent Daedalus from connecting to the network is now automatically detected and fixed. When this happens, the user is informed about the issue and instructed to restart Daedalus.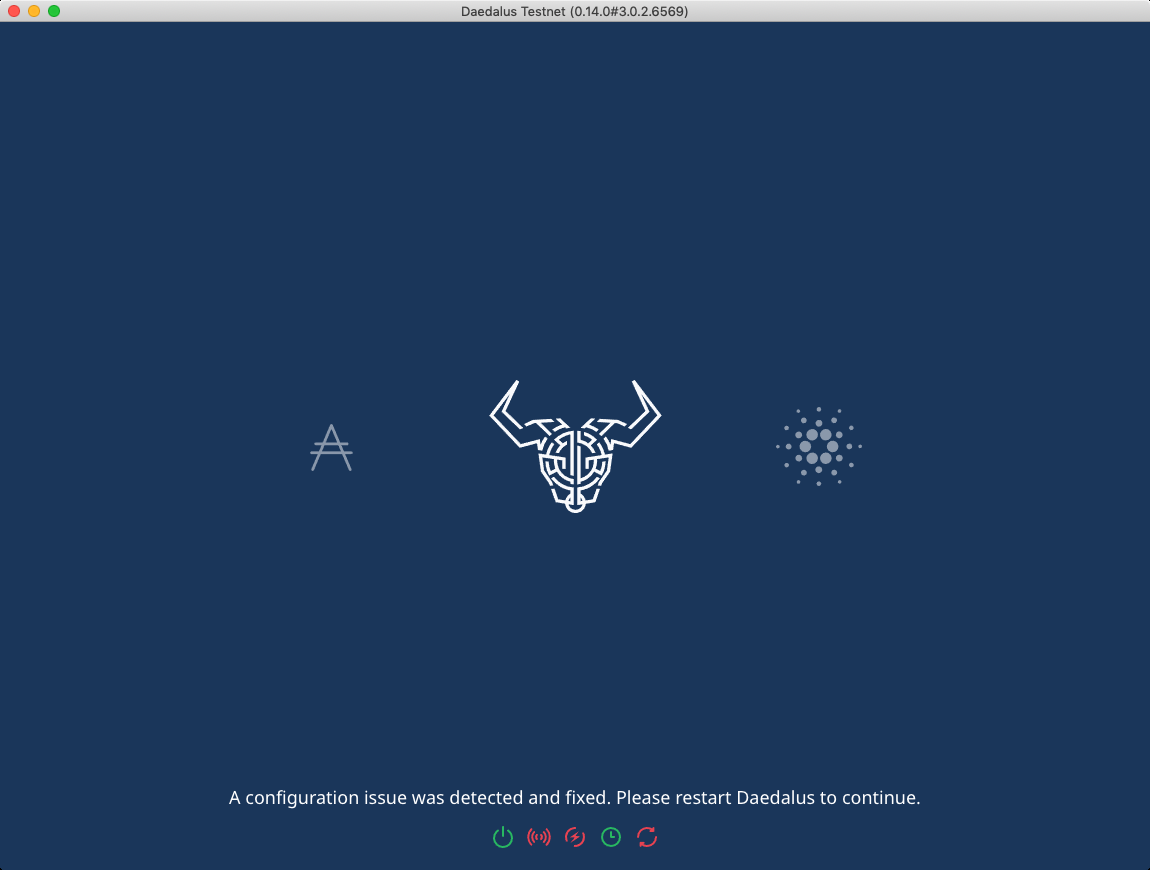 Logging improvements
Logging in Daedalus has been improved:
• Log files now have the more appropriate .json extension instead of .json.log.
• There is now a dedicated log file which tracks all Daedalus versions and update history.
• The diagnostic information visible on the 'Daedalus diagnostics' screen is now captured in a log file before log files are packaged for download.
• Log rotation has been improved to fix an issue where downloaded logs contained only a small number of recent entries because the download of logs happened shortly after a new log file has been created in the process of log rotation.
Wallet password validation
Wallet password validation logic is now improved for better support across different languages.
Improved clock synchronization checks
In order for Daedalus to work and the Cardano node to process blocks and synchronize with the blockchain, the clock on the user's machine needs to be synchronized with global time. Checks for clock synchronization are now improved. Before reporting an issue with clock synchronization and stopping operation Daedalus will perform two additional checks to have a total of three confirmations that the clock is really not synchronized. This will reduce the number of false reports.
Cardano SL 3.0.3
Cardano SL 3.0.3 is a small update that includes cardano-sl maintenance improvements. The upgrade does not bring any changes that will be noticeable to Daedalus users.
System Requirements
Supported platforms
MacOS: MacOS 10.12, MacOS 10.13, MacOS 10.14
Windows: Windows 7, Windows 8, Windows 10 (Only 64-bit Windows is supported)
Linux:

Tested against:
Aimed at all Linux distributions
Recommended minimum hardware requirements
64-bit dual core processors
4 GB of RAM
10 GB of free drive space
Broadband Internet connection