Daedalus 1.0.0 - Release Notes
Release date: 23 April 2020
Daedalus 1.0.0 is the first release of Daedalus to incorporate Byron reboot improvements, including a completely re-engineered Cardano node and Cardano wallet, the core backend components of Daedalus.
The Byron reboot is a critical step towards Cardano's future. As well as creating the foundation that Shelley will be built on, it brings significant performance enhancements to Daedalus, including advancements in stability, reliability, and performance. Users on all platforms should see improvements in connection, blockchain synchronization, and wallet restoration speed, as well as reduced memory usage.
Daedalus 1.0.0 also brings new features, including background blockchain synchronization, a wallet import feature, mandatory spending passwords, support for Yoroi wallets, a transaction filtering function, a new update mechanism, and redesigned, faster wallet restoration with support for parallel wallet restoration.
New Features
Wallet import
The new wallet import feature can import wallets from the previous version of Daedalus, from the Daedalus state directory, or from a 'secret.key' file.
It can be used to import wallets quickly without entering the wallet recovery phrase for each wallet, or to import wallets for which you have lost your wallet recovery phrase.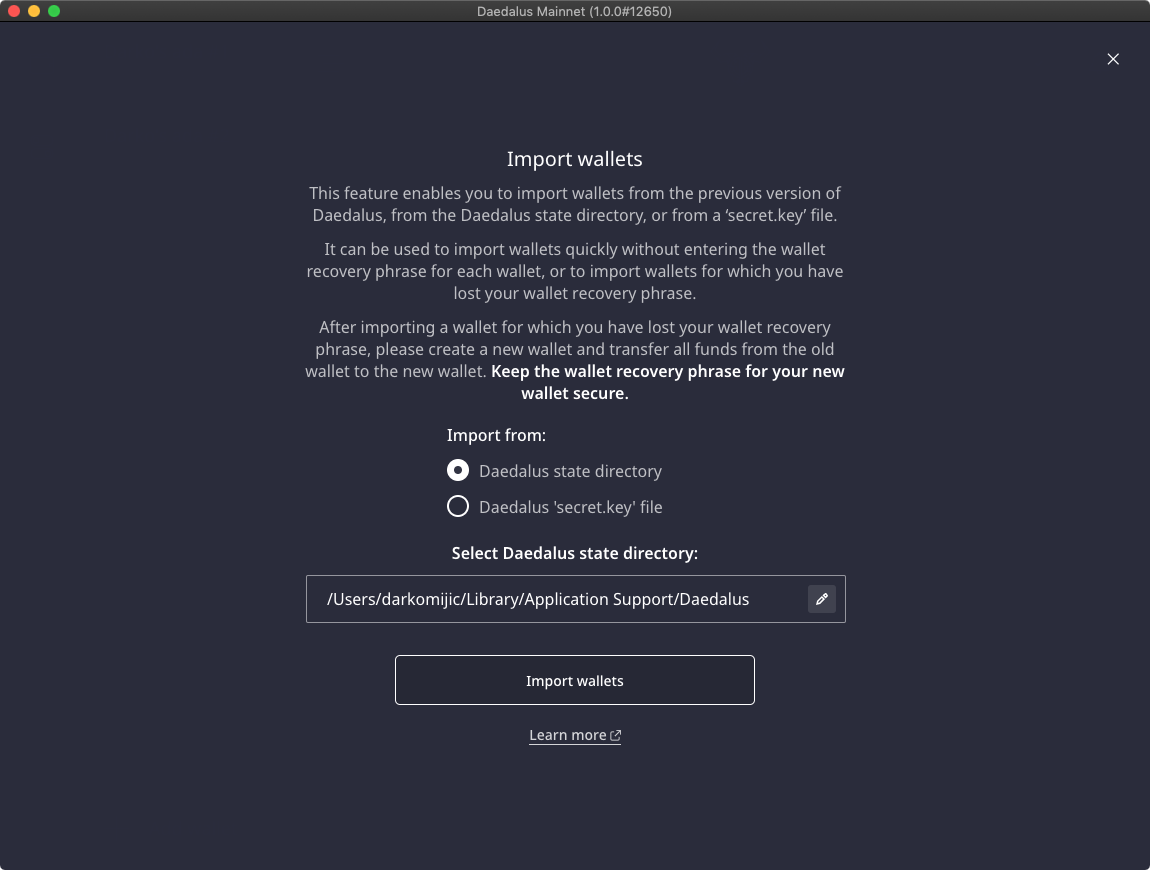 Mandatory spending passwords
To ensure maximum security, Daedalus will prompt users to set a spending password for any imported wallets that are not password protected. As soon as a spending password is set, users will be able to access all wallet features.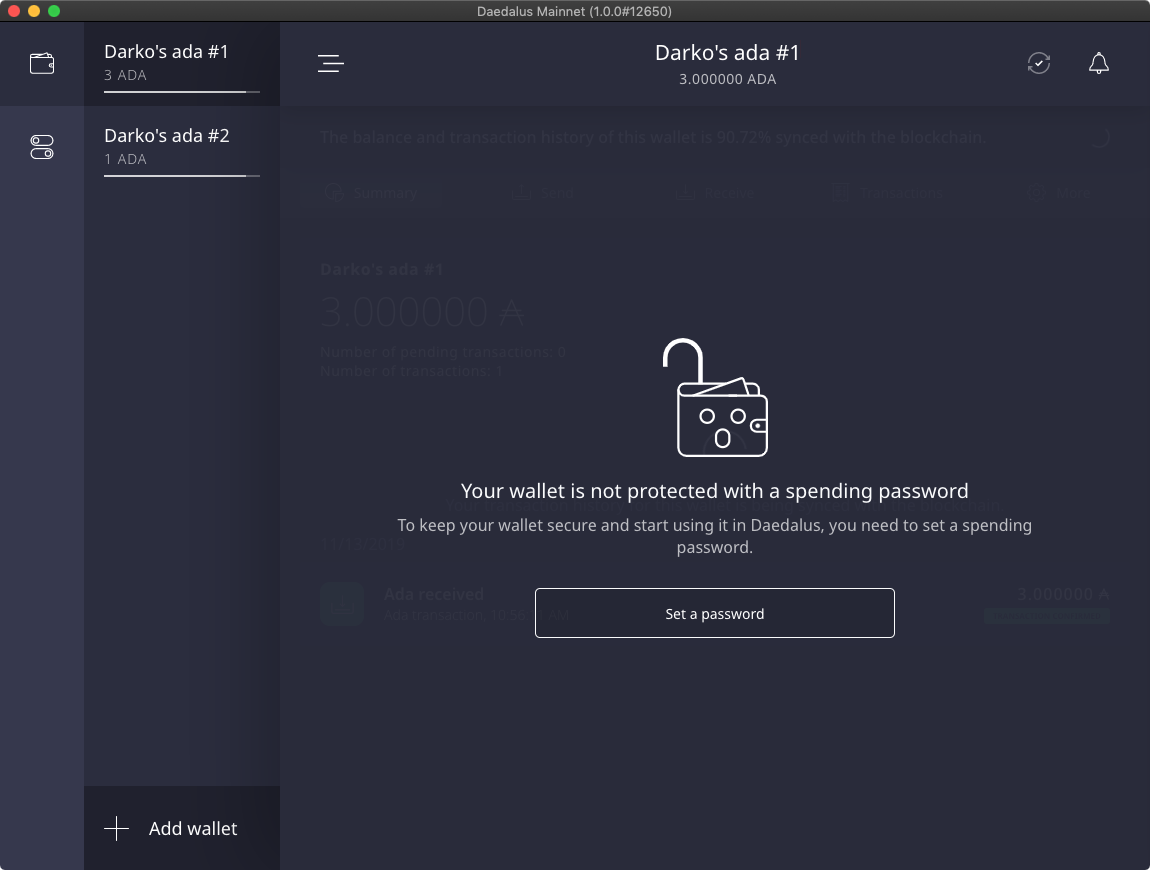 Blockchain synchronization running in the background
The blockchain syncing screen has been removed and the main user interface is now available immediately after Daedalus connects to the Cardano network. Synchronization progress can be monitored via the syncing icon in the top-right part of the user interface. All Daedalus features are available during blockchain synchronization, except the sending of ada.
Yoroi wallet support
Yoroi wallets can now be restored and used within Daedalus. Wallets can be kept in both Daedalus and Yoroi and used at the same time. If you want to use your wallet in both Daedalus and Yoroi, your wallets will remain in sync since funds are stored on the blockchain and wallets just provide a view for that data.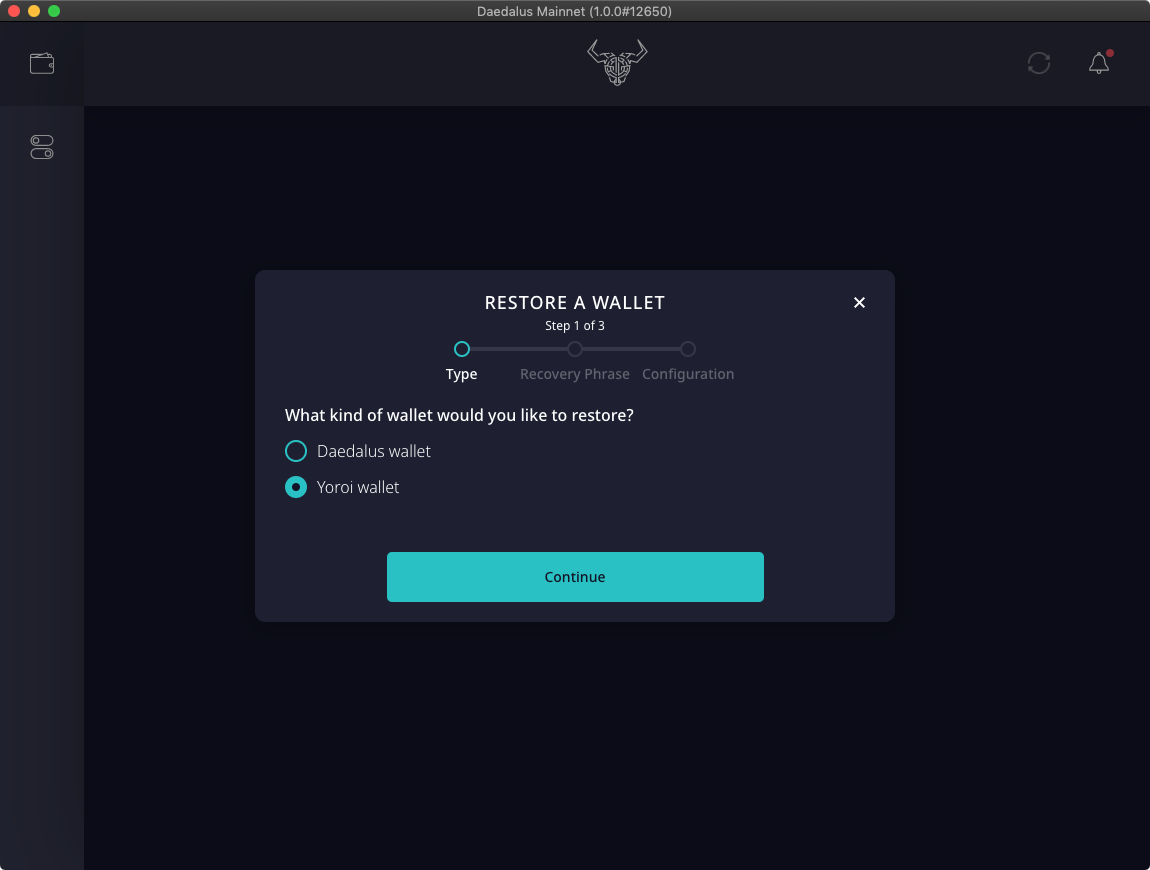 Faster wallet restoration with parallel wallet restoration
The wallet restoration process in Daedalus has been completely redesigned to support a larger number of wallets. Wallet restoration now has multiple steps to simplify the restoration process and entering wallet recovery phrases and configuring wallet names and spending passwords are now discrete steps in the wallet restoration process. This is to make it clear that the only piece of information needed to restore a wallet is the wallet recovery phrase. During each wallet restoration, a new wallet name and spending password can be set.
Wallet restoration is now also significantly faster and supports the parallel restoration of multiple wallets. Wallet restoration now takes around 15 minutes instead of two hours when Daedalus is synced with the Cardano blockchain, depending on internet connection speed and on the performance of the computer Daedalus is running on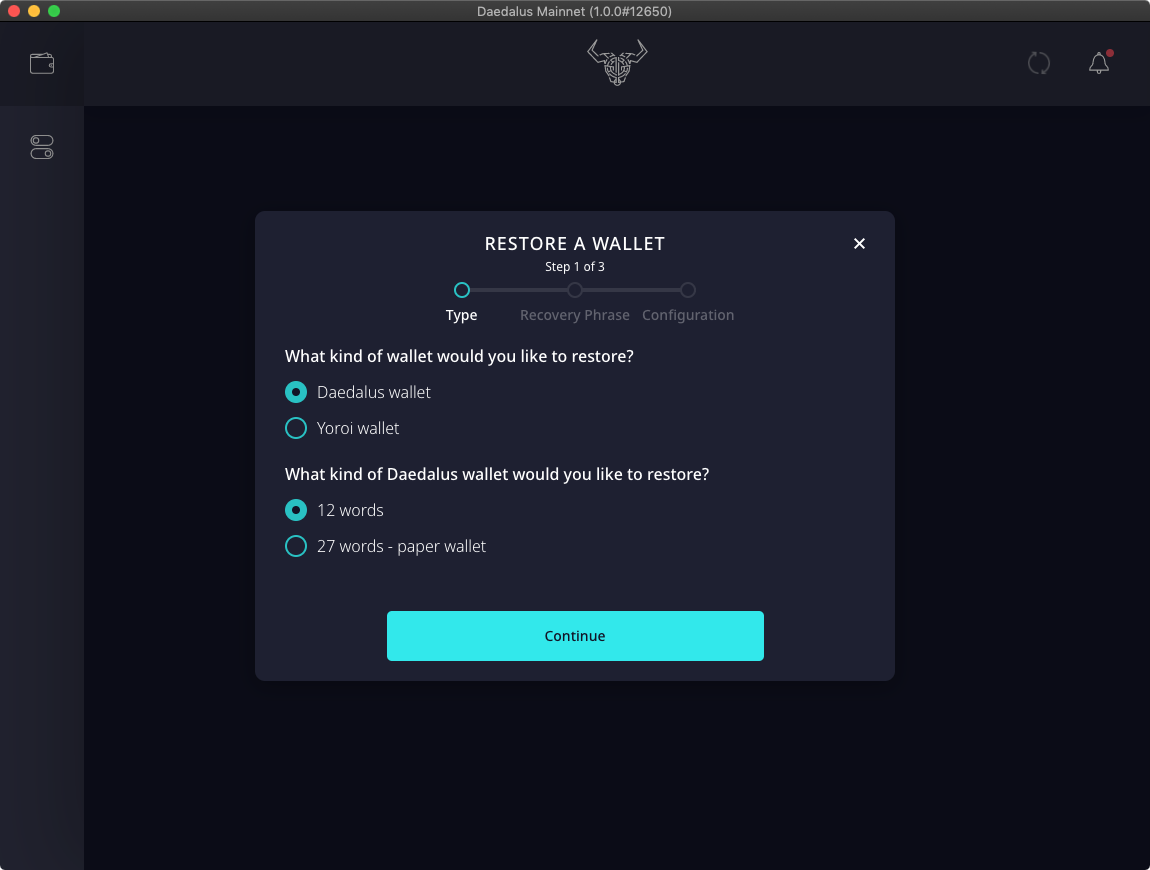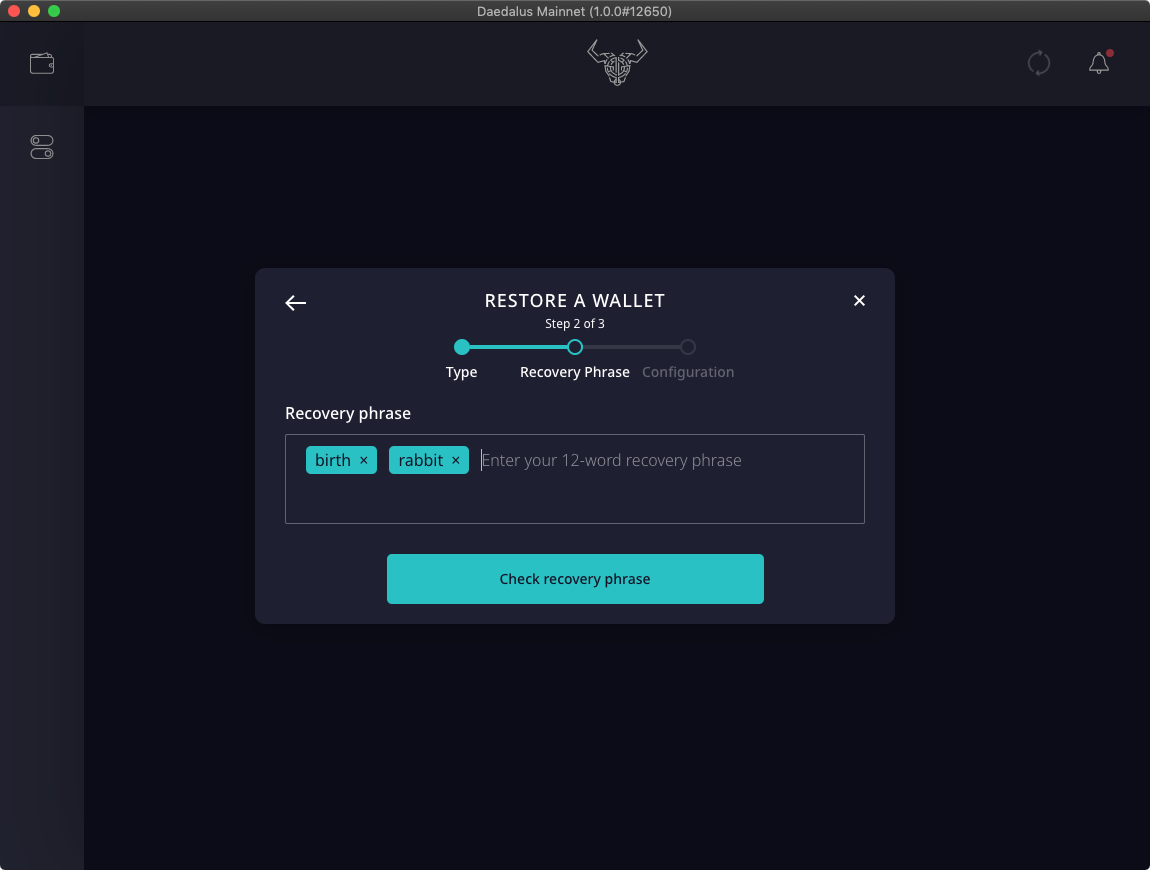 Transaction filtering
Daedalus now has a transaction filtering feature, enabling users to filter their transactions by transaction type (ada received or ada sent), date, and ada amount. The 'All transactions' button will autocomplete the filter form with a date range that starts from the oldest transaction in the wallet and ends with the most recent, as well as an amount range that covers the smallest and largest values from historical transactions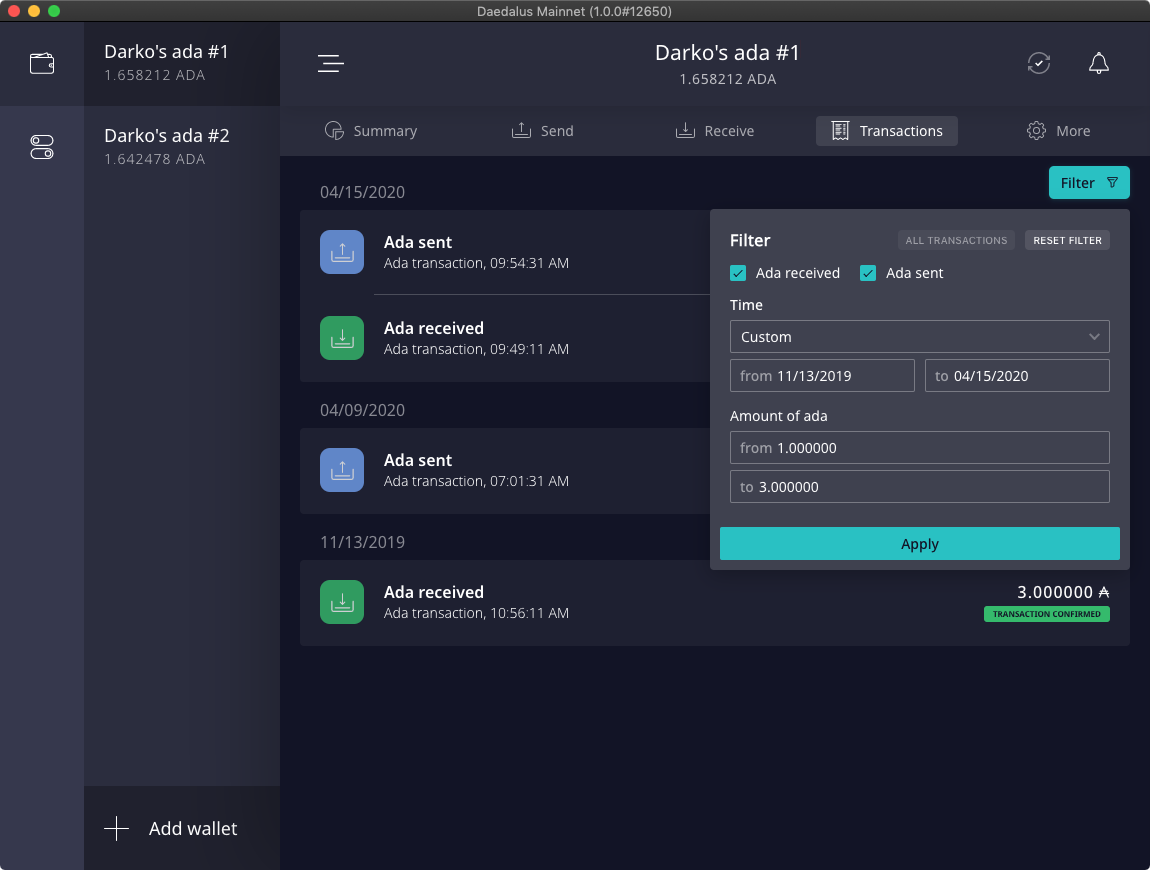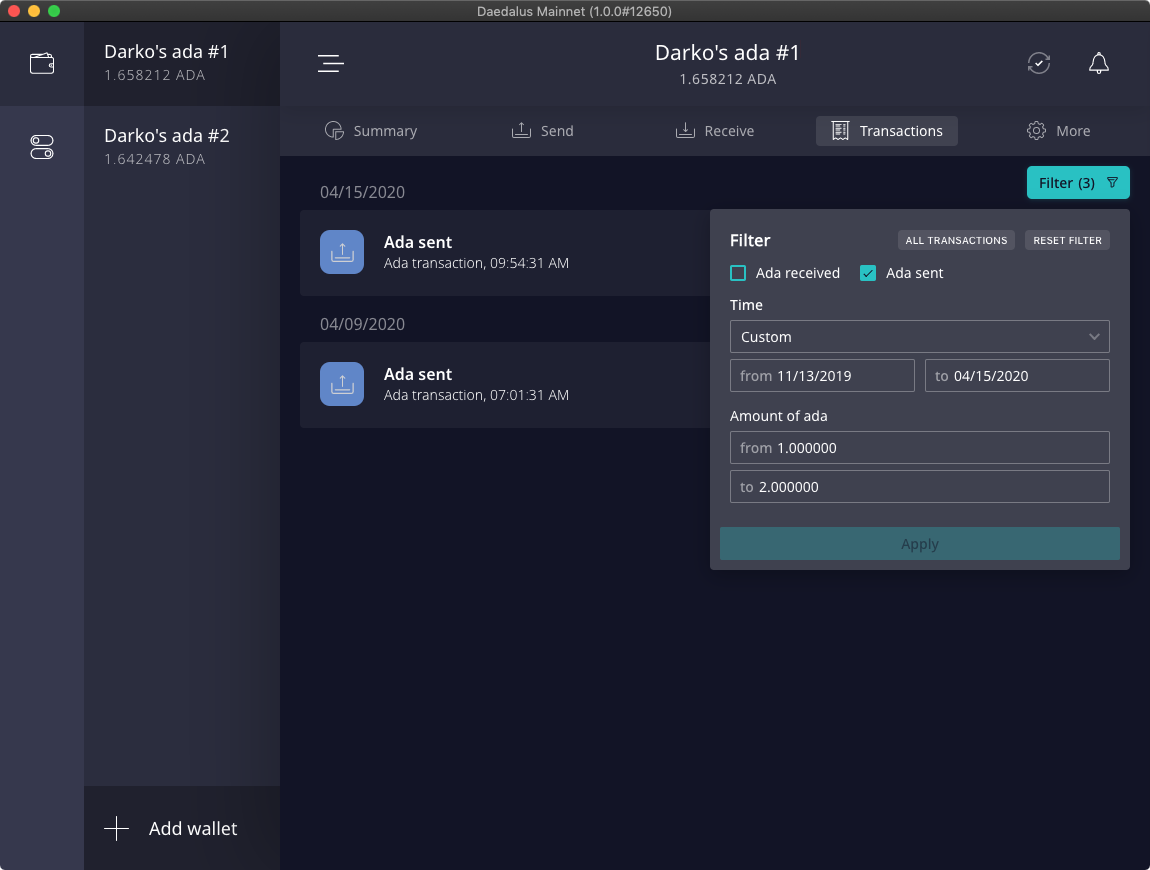 Unified look and feel for notifications
All notifications in Daedalus have a unified look and feel. They are displayed in the same place in the top part of the screen and are always displayed on top of other user interface elements.
Improved system menu with keyboard shortcuts
The Daedalus system menu has been reorganized into Daedalus, Edit, View, and Help categories. Keyboard shortcuts have also been added for commonly used operations.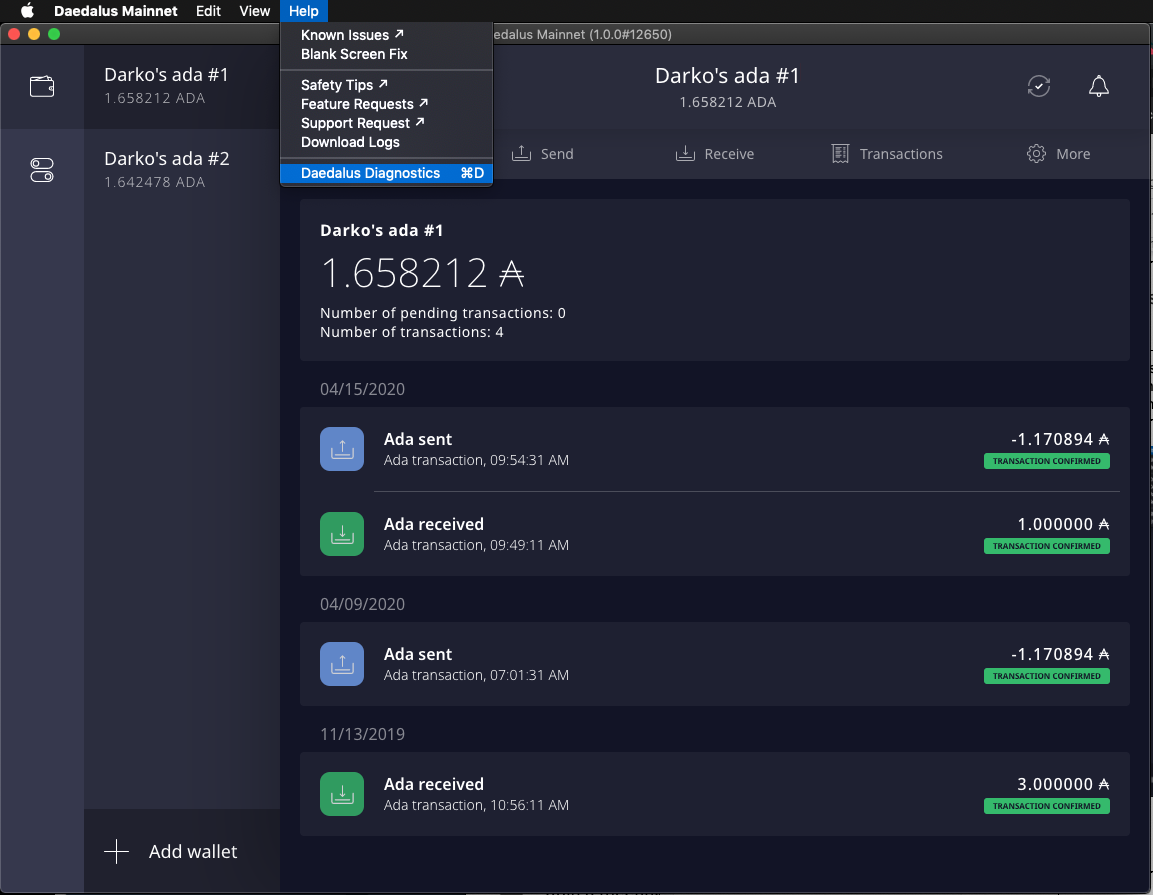 New Daedalus update mechanism
Daedalus introduces a new update mechanism. Users will be notified of new releases of Daedalus via the Newsfeed as they become available, and will be able to download and install these releases as they prefer.
Improvements for Daedalus diagnostics screen
The Daedalus diagnostics screen now displays more information, including the Daedalus build number, process IDs, and ports for both the Cardano node and Cardano wallet.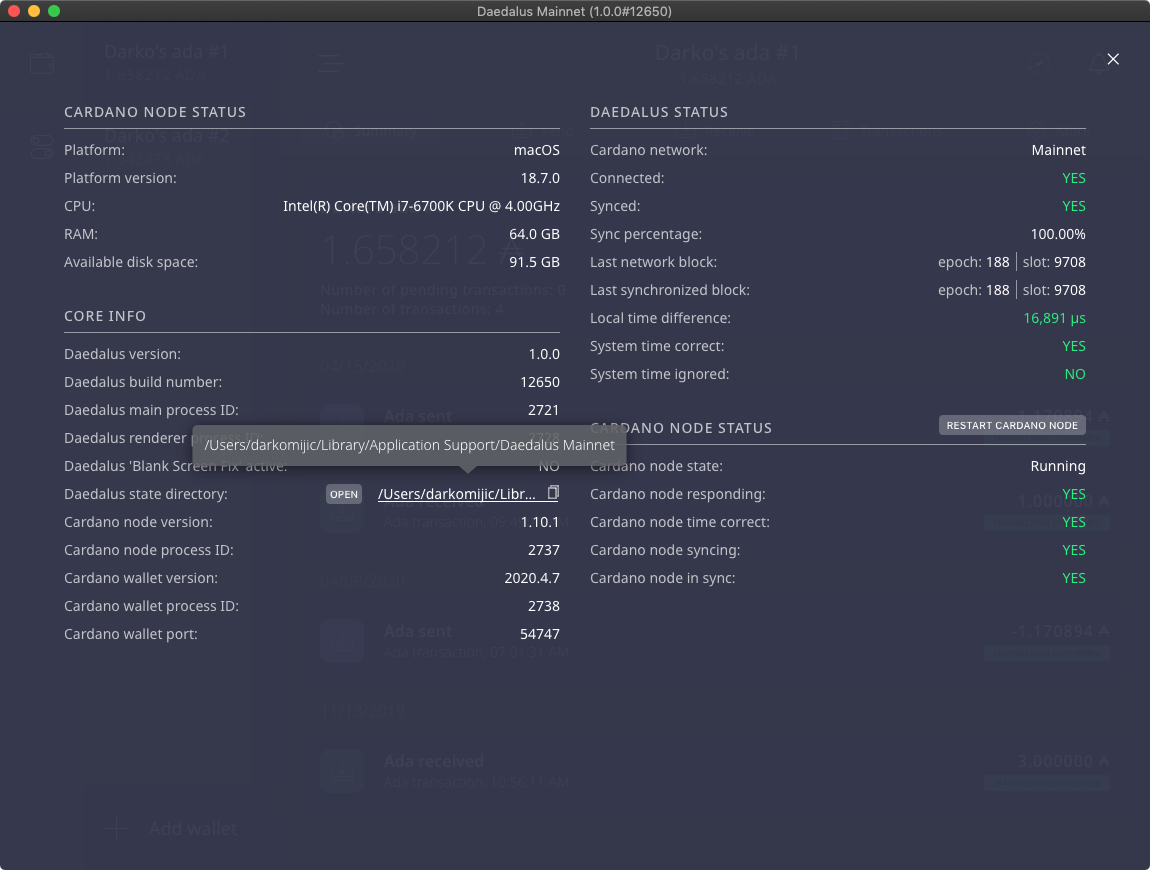 Performance improvements
Major improvements have been made to blockchain synchronization and wallet restoration time and memory usage. Users on all platforms should now experience improved performance.
Supported platforms
MacOS: MacOS 10.13, MacOS 10.14, MacOS 10.15

Windows: Windows 8.1, Windows 10 (Only 64-bit Windows is supported)

Linux:

Tested against:

Aimed at all Linux distributions
Recommended minimum hardware requirements
64-bit dual core processors

4 GB of RAM

10 GB of free drive space

Broadband Internet connection