Daedalus 1.1.0 - Release Notes
Release date: 12 May 2020
Daedalus 1.1.0 release adds a wallet recovery phrase verification feature and support for Ubuntu 20.04 LTS. It also prevents Daedalus from being installed on unsupported versions of Windows, improves networking reliability and overall performance, and fixes numerous smaller issues, as well as making multiple user experience improvements.
New Features
Wallet recovery phrase verification
The wallet recovery phrase verification feature, accessible via wallet settings for each wallet in Daedalus, allows users to check that they have the correct wallet recovery phrase.
This feature will also warn users if their recovery phrase has not been verified for a long period of time. Six months after the creation or restoration of a wallet, users will get a yellow warning if the recovery phrase has not been verified. After a year, they will get a red warning. Users don't need to verify their recovery phrase if they are sure it is correct and these warnings can be safely ignored.
This feature does not yet support verification of paper wallet recovery phrases, but a feature for the conversion of paper wallet recovery phrases to regular wallet recovery phrases (which can then be verified) will be available in Daedalus soon.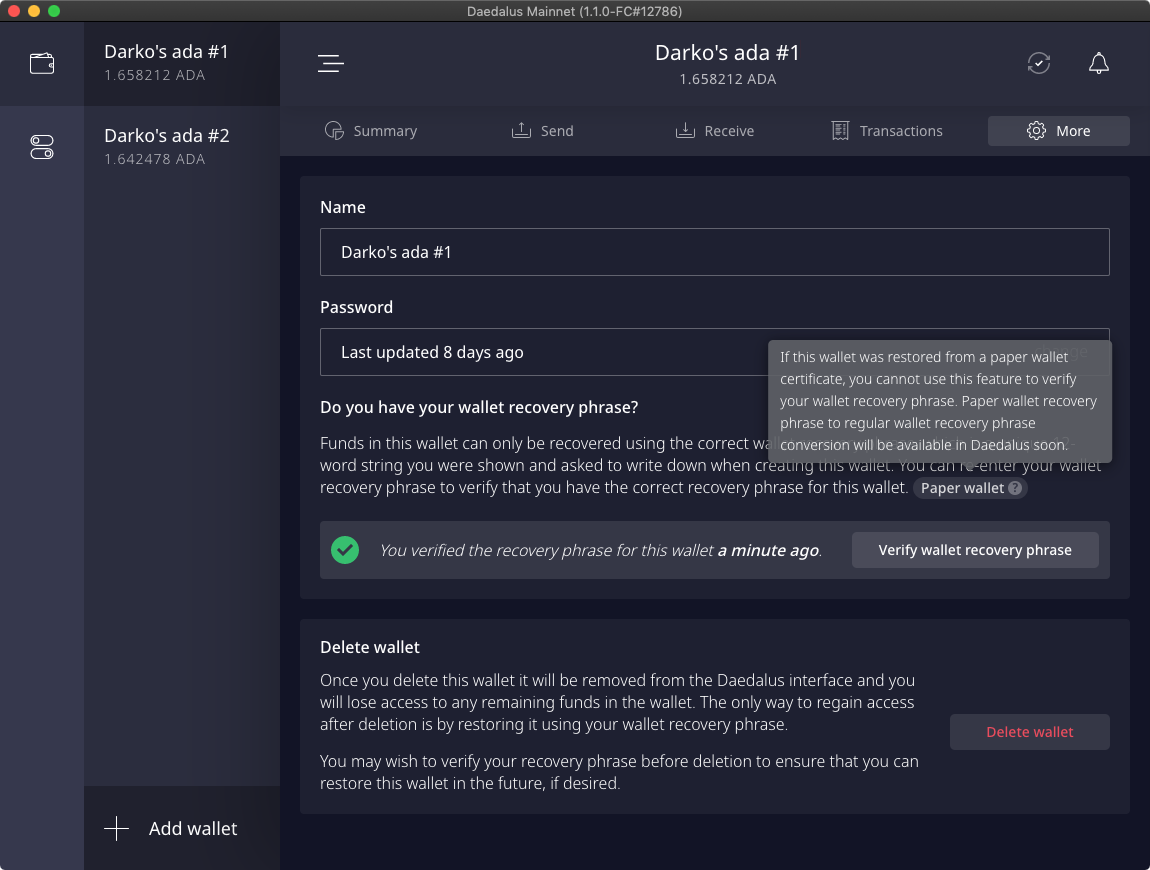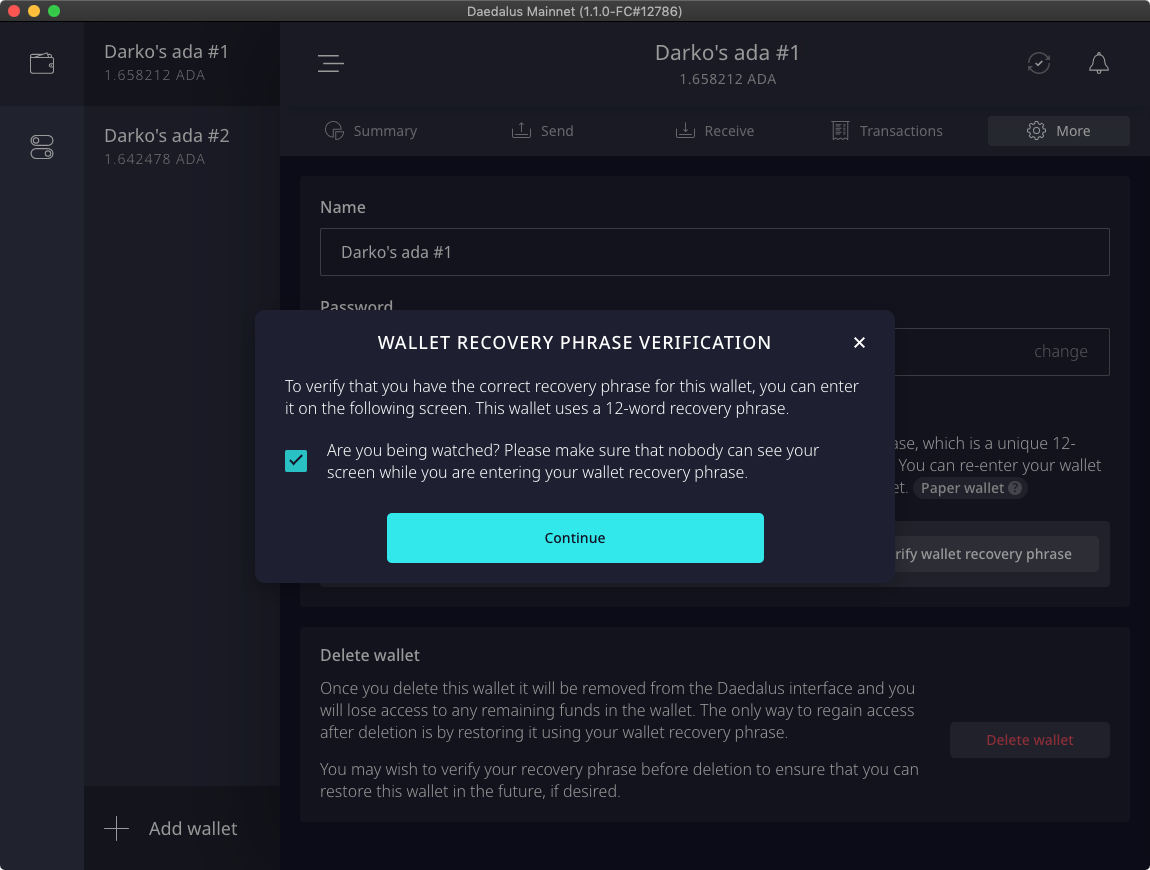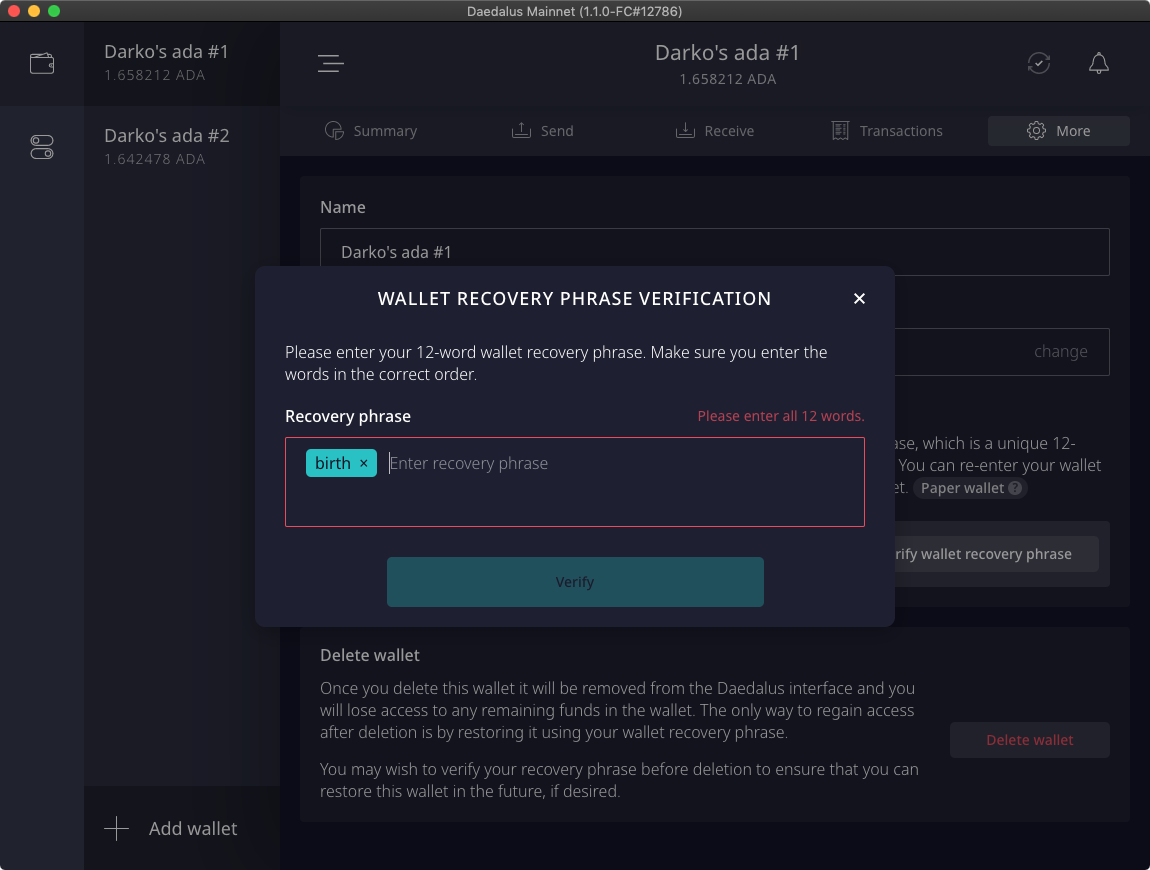 Ubuntu 20.04 LTS support
Ubuntu 20.04 LTS has been added to the list of officially supported Linux distributions, all of which are tested extensively during our quality assurance processes.
Fixed Issues
Installation prevented on an unsupported version of Windows
Daedalus now prevents installation on unsupported versions of Windows. Daedalus requires Windows 8.1 or newer and users of Windows 8.0, 7, and older will no longer be able to install Daedalus.
Network disconnection on Windows and macOS
On Windows and Mac computers, Daedalus was unable to reconnect to the Cardano network if the internet connection was lost and reconnected, or if the Wi-Fi network was changed while Daedalus was running. This issue is now fixed.
Smaller user experience improvements
This version of Daedalus includes numerous smaller user experience improvements. The small vertical line which appeared on some Mac computers has been removed from the animated logo, wallet error handling has been improved and has more detailed error messages, and the wallet import dialog handles interruptions from lost connections or low disk space warnings much better now.
Known Issues
Wallets unable to completely sync after reconnecting
When the internet connection is lost and restored and Daedalus reconnects to the Cardano network, wallet synchronization can sometimes get stuck at 99.99%. This issue is currently being investigated and fixed. In the meantime, a temporary workaround for this issue is to restart Daedalus.
High CPU Usage on macOS
After Daedalus and all wallets are fully synchronized with the Cardano blockchain, Daedalus sometimes continues to have unexpectedly high CPU usage on macOS systems. This issue is being investigated and fixed.
Installation over previous Daedalus version while Daedalus is running on macOS and Linux
On macOS and Linux, the Daedalus installer is not properly checking if the previous version of Daedalus is still running, allowing users to unintentionally install over a running copy of Daedalus. This can cause issues. If this happens, users are recommended to delete the Daedalus application and keep the state directory, then attempt installation again. Users should manually check that Daedalus is not running when performing installation on macOS and Linux operating systems until this issue is fixed.
Tooltip positioning in wallet settings
The tooltip explaining the limitations of wallet recovery phrase verification for wallets restored from paper wallet certificates may not be positioned correctly depending on Daedalus window size. If you can't see the complete content of the tooltip, please resize your Daedalus window as a temporary workaround.