Daedalus Shelley Testnet 1.3.0-STN2 - Release Notes
Daedalus 1.3.0-STN2 is the first Daedalus release for the new iteration of the Shelley testnet network.
This release enhances the stake pool functionality with an improved ranking and rank calculation system based on the intended amount of delegated stake. This release also adds functionality for retiring stake pools, and IDs to the stake pool details.
This new version of Daedalus also makes rewards spendable and Byron wallets are supported from this release onwards.
Additional features will be added to Daedalus incrementally during the rollout to support the Shelley testnet. These upcoming features include:
A countdown for the Shelley activation on the new Cardano testnet iteration, which will follow the current

testnet.

A progress meter to show the progress of decentralization.

The new test network will start federated and gradually become more and more decentralized during the summer, mirroring the approach the Cardano mainnet will follow...
New features
Enhanced stake pools functionality
Stake pool ranking has been improved. It now correctly recognizes stake pools that have not honored their pledge. Those pools will now receive a low ranking, since they will earn zero rewards for not honoring their pledge.
Stake pool ranking also takes into account the amount of stake you are planning to delegate, since expected rewards depend on the saturation of each pool. The user interface provides a list of wallets to choose from as the amount of stake, the sum of the stake in all Shelley wallets, or a custom amount of stake can be selected using the slider. Possible values for the amount of stake intended for delegation range from the minimum 10 ada to the saturation point of a single empty pool. A pool's saturation point is calculated from the total amount of stake in the system divided by the desired number of block-producing pools in the network. For the Shelley testnet, the desired number of pools is 250 and the total amount of stake is approximately 11 billion ada, so the saturation point for a single pool is approximately 44 million ada. Updates to the stake pool list are animated to highlight how the list changes when the intended amount of stake for delegation changes.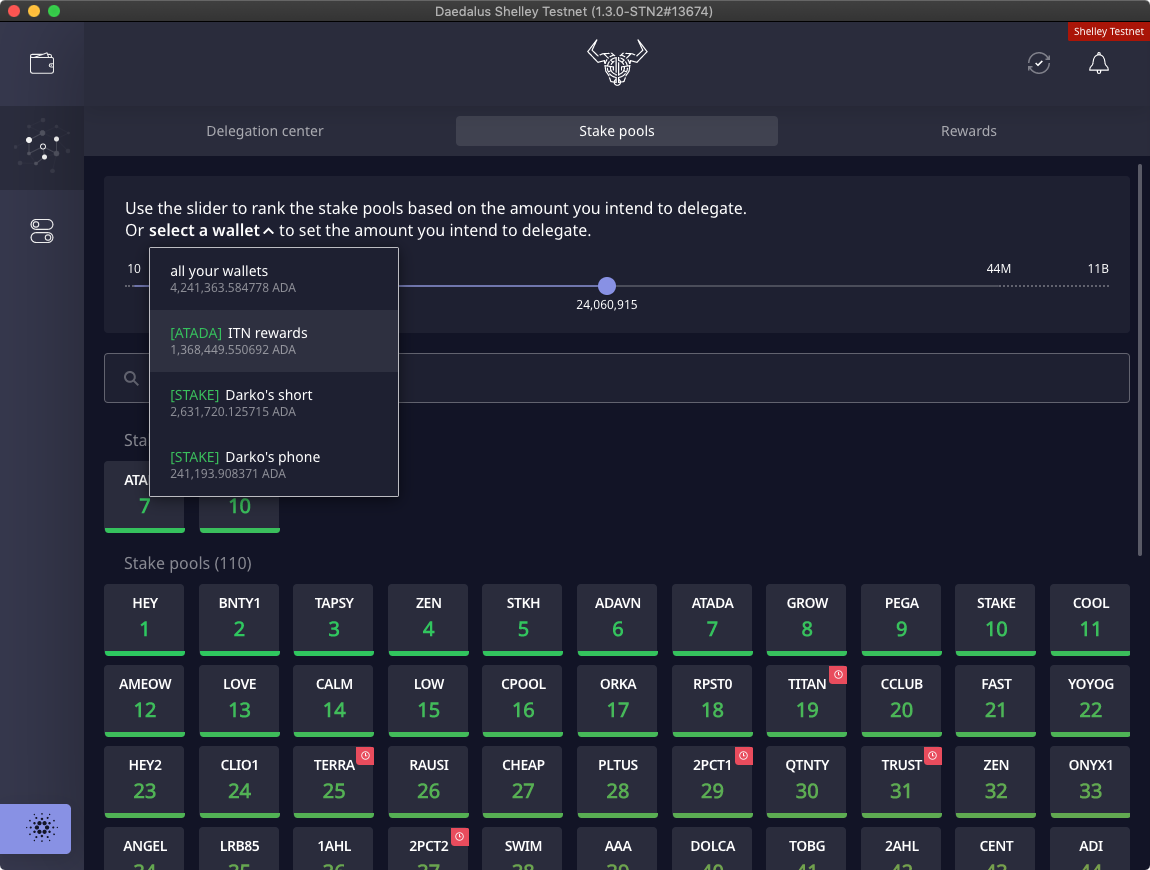 Stake pool details now include a stake pool ID to identify the pool when comparing stake pool information from different sources.
Retiring stake pools (i.e. pools being decommissioned and taken out of service by their operators) are now recognized and marked with a red icon on a stake pool tile. Stake pool details now indicate when a retiring pool will be retired.
The deletion wizard now highlights retiring pools and warns users when they select a retiring pool as their delegation choice.
Spendable rewards
Rewards are now spendable and are included in the wallet balance. Daedalus no longer displays rewards balances separately; wallets now reflect only one total balance. Rewards expenditure happens automatically when transactions occur, and it is completely transparent for the user. Transaction details now include a 'From rewards' section when a transaction used ada earned as rewards.
Byron wallets
Byron wallets are reenabled in Daedalus for the Shelley testnet, but do not support sending and receiving ada. Funds from Byron wallets need to be moved to Shelley wallets, since Byron wallets do not support delegation features.
Byron users with funds in their wallets will be notified by Daedalus that the funds need to be moved to a Shelley wallet. The new migration functionality automatically creates one or multiple transactions to move all the funds, effectively emptying the Byron wallet.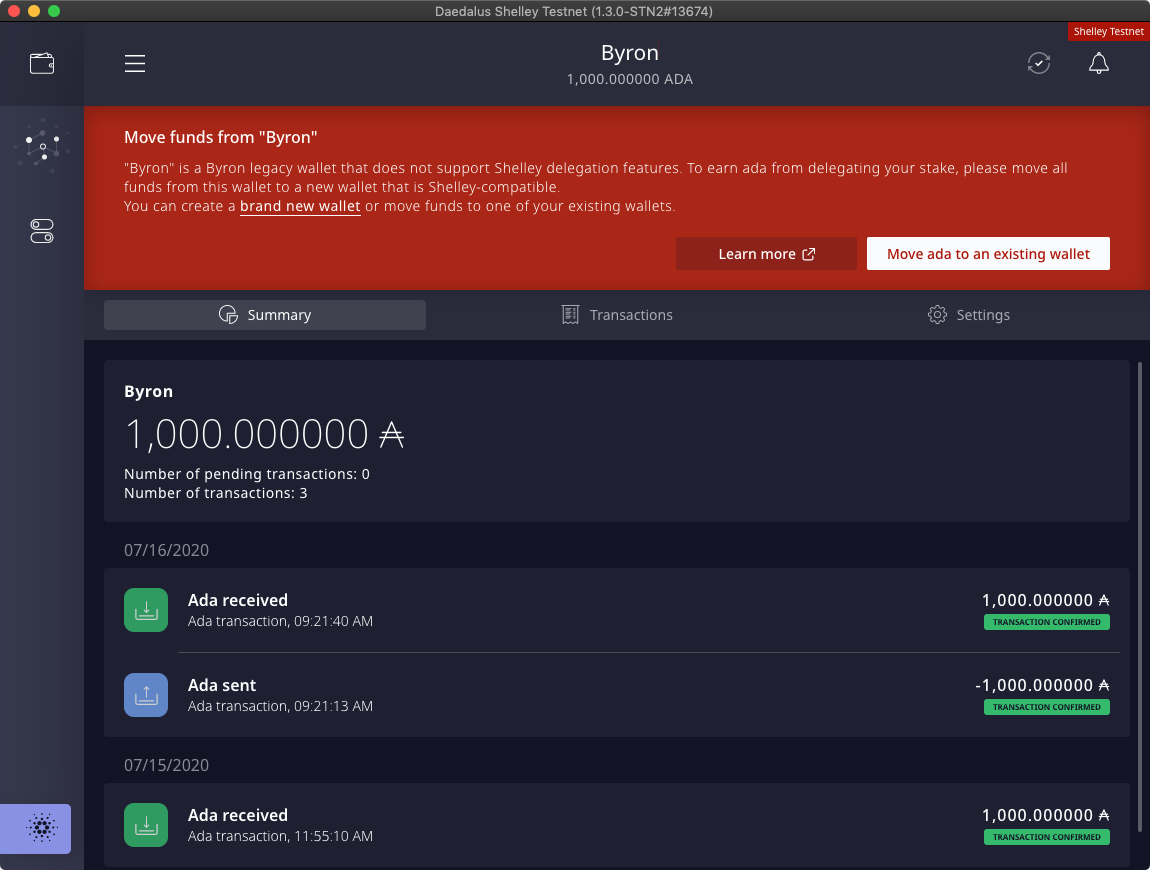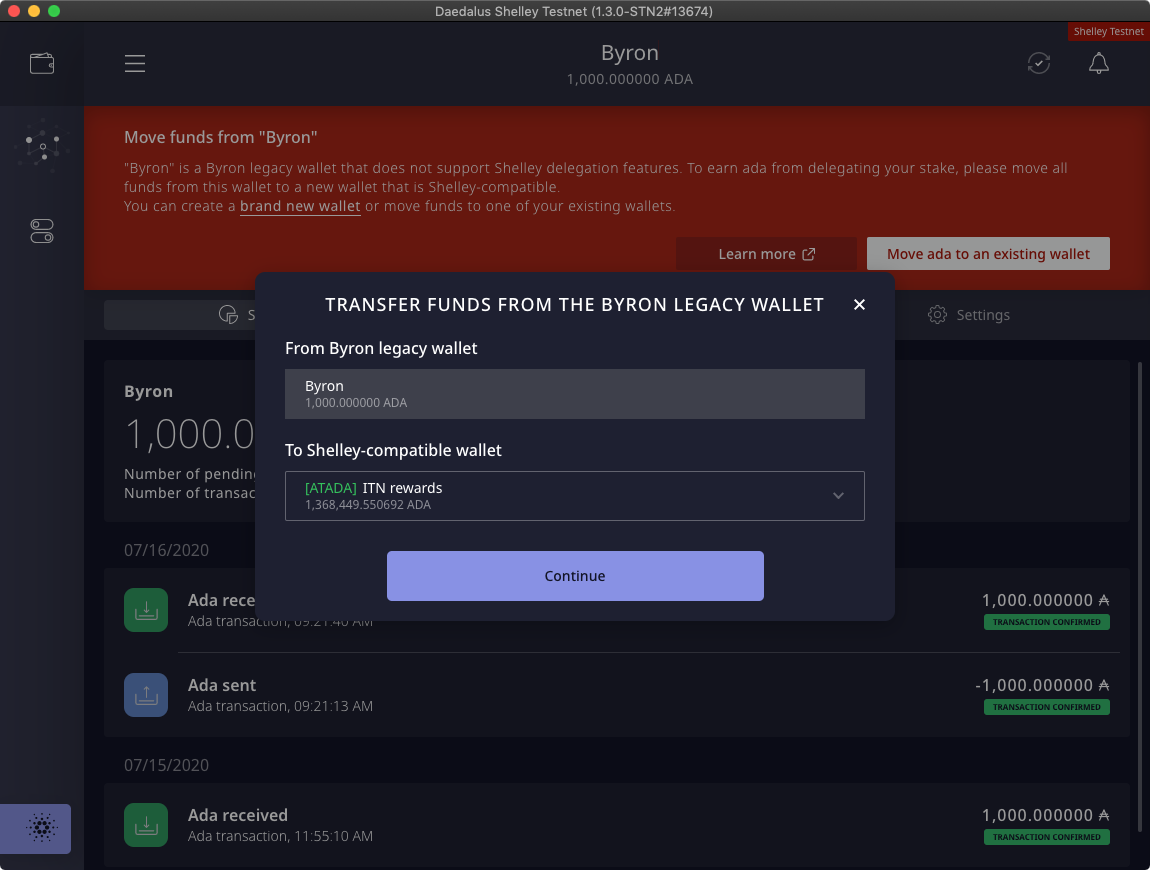 Known issues
Delegating to a retiring stake pool
Delegating to a retiring stake pool sometimes fails. When this happens, in the last step, delegation confirmation fails with an 'An error occurred' message instead of completing successfully.
Stake pool saturation
Stake pool saturation is correctly used and calculated for stake pool ranking. However, due to ongoing work, we are currently not able to display these correctly in the stake pool details and saturation indicator, so we have temporarily removed this feature from the user interface.
Downloading logs on older versions of Linux
Downloading logs on some older versions of Linux can cause Daedalus to crash.
Incorrect transaction history when spending rewards
When making a transaction in Daedalus that spends rewards, the amount of ada that was moved in transaction details does not include the amount of spent rewards. So the amount of transacted ada presented in the transaction can be lower than the amount of ada that was actually moved. This does not affect the integrity of the transaction and is just a presentation issue.
Example: