Daedalus Shelley Testnet 1.6.0-STN5 - Release Notes
Daedalus 1.6.0-STN5 is the latest release for the Shelley testnet network. The Shelley testnet will soon transition from a federated network to a fully decentralized network, mirroring the approach that the Cardano mainnet will take later this summer. The aim of this Daedalus release is to test the Shelley upgrade.
The Shelley testnet also includes mainnet balances that were calculated from the Cardano mainnet snapshot taken on the 20th of July at 0:00 AM UTC. These balances are available as testnet ada, which can be accessed by restoring the Byron mainnet wallets. However, this version of Daedalus does not support spending from Byron wallets prior to the Shelley upgrade. This feature will be enabled when the upgrade to Shelley is completed.
Important note: We cannot guarantee the correct balances for restored mainnet wallets. The balance of the restored wallet may be incorrect based on your transaction history. This is a known issue on the Shelley testnet but will not affect mainnet functionality, which will display correctly once the upgrade to Shelley has been completed.
The Shelley testnet also includes rewards from the Incentivized Testnet. If you participated in the Incentivized Testnet program, you can use the new version of Daedalus to check your Incentivized Testnet rewards. To do this, restore your wallet using the 15-word recovery phrase for your Daedalus Rewards or Yoroi wallet. The Incentivized Testnet rewards will be available for use on the testnet one epoch (6 hours), after the Shelley upgrade.
Additional features will be incrementally added to Daedalus during the rollout to support the Shelley testnet. These upcoming features include:
Spending from Byron wallets

Incentivized Testnet rewards redemption feature for redeeming ITN rewards to Shelley wallets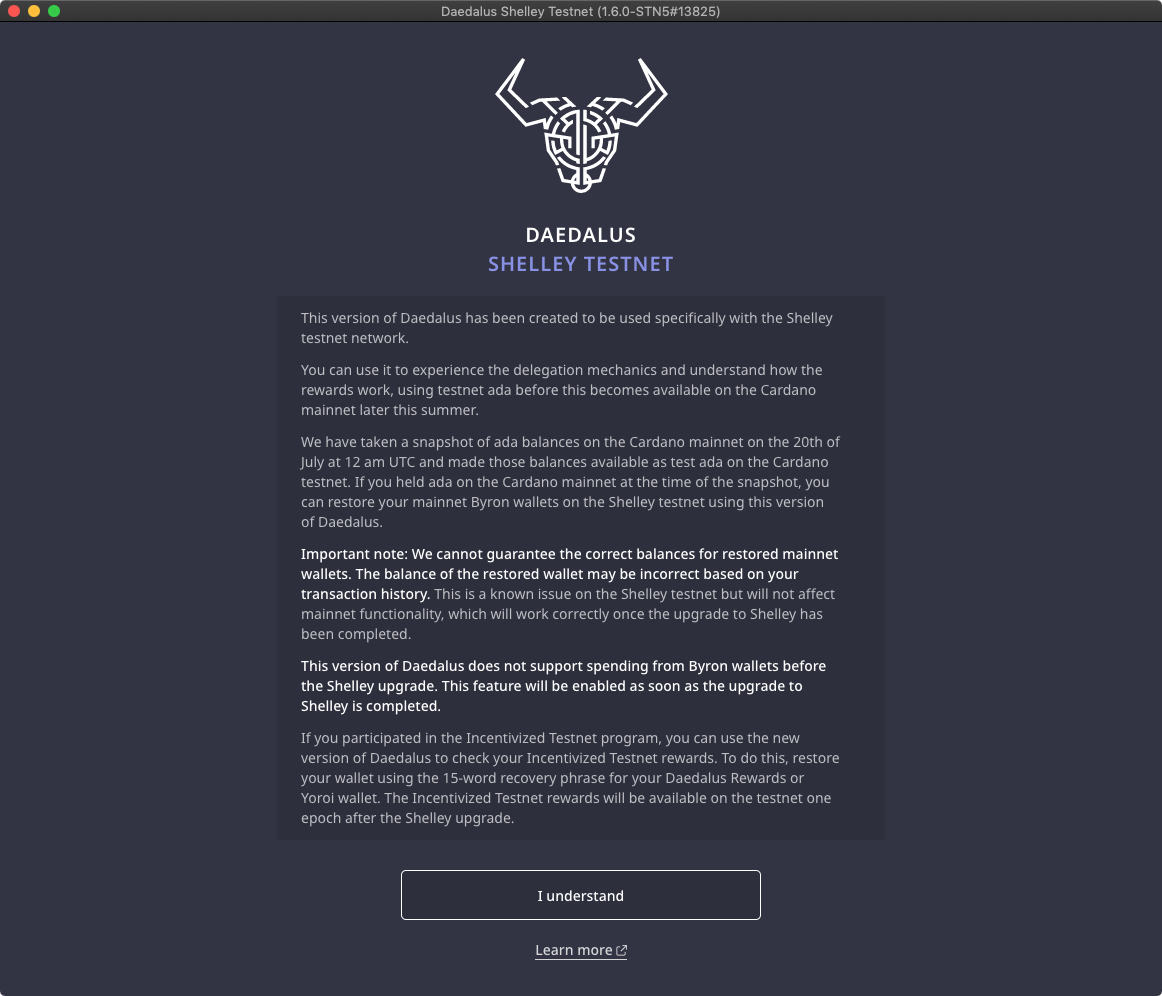 New Features
Shelley upgrade countdown
Before the Shelley features become available in Daedalus, the Shelley upgrade needs to be completed. A dedicated screen in Daedalus displays a countdown for the Shelley upgrade.
Transition to decentralization
A new Info tab in the Shelley user interface will show the progress as Cardano transitions from a federated to a decentralized system operated by a community of stake pool operators.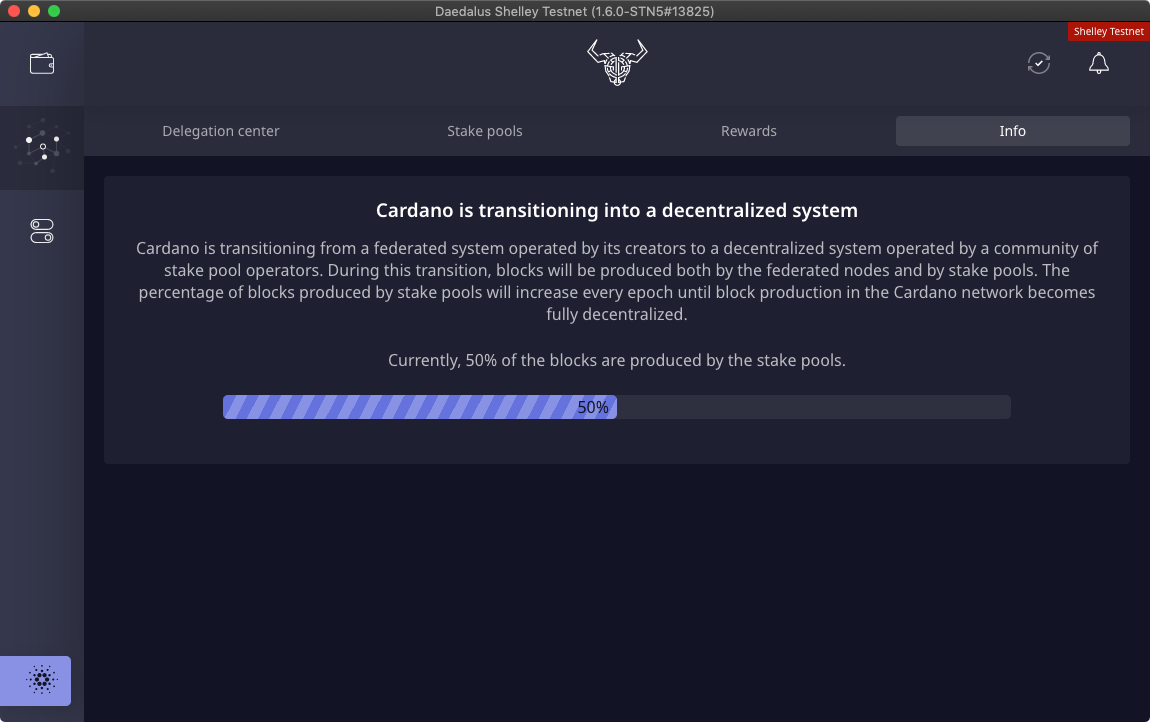 Ledger and Trezor hardware wallet restoration for Byron legacy wallets
Daedalus for the Shelley testnet now supports Ledger Nano S, Ledger Nano X, and Trezor model T hardware wallet restoration. Please note: this is not full hardware wallet support that would allow hardware wallets to be used with Daedalus. Currently, only hardware wallet restoration is supported, allowing users to use a hardware wallet recovery phrase to recreate a hardware wallet in Daedalus.
This feature should be used with caution and only by experienced hardware wallets users who understand that they do so at their own risk. It is not advisable to enter hardware wallet recovery phrases in software applications; instead these should be stored safely offline.
This feature was developed for users who are holding ada on Ledger or Trezor hardware wallet devices and need access to those funds prior to the implementation of Shelley support for hardware wallets in Yoroi, AdaLite or an alternative wallet software.
Restoration is supported only for Byron legacy wallets. After a Byron legacy wallet is restored, the funds should be moved to a Shelley wallet, where they can be used for delegation and earning rewards. After funds are moved to a Shelley wallet, the wallet restored from a hardware wallet device should be deleted for security reasons. This ensures that the private keys associated with the hardware wallet device are only stored in Daedalus for a short period of time.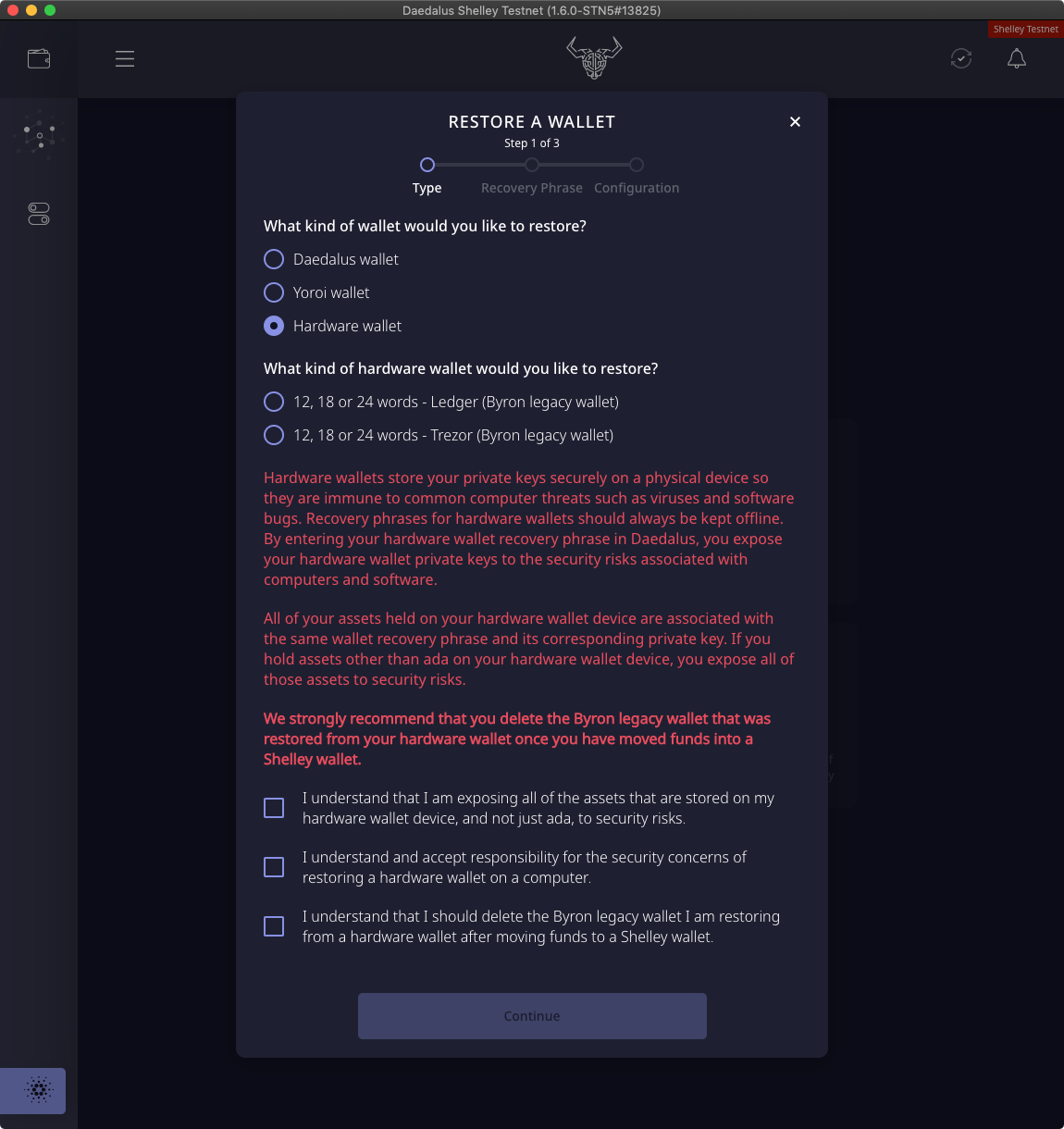 Known Issues
Mainnet snapshot balances
Balances for restored mainnet snapshot wallets may be incorrect because mainnet snapshot does not include transaction history which is required for accurate wallet restoration.

Delegating a wallet that only has rewards
We have not yet implemented delegation of stake from wallets that only have rewards balances, without any UTXOs. An example of such a wallet is one that contains Incentivized Testnet rewards, which was restored on the Shelley testnet. In this case, the delegation wizard will not progress past the confirmation step, and will display 'Calculating fees' instead of the actual fees required to confirm the delegation.
This will not be an issue on mainnet as Daedalus will have a dedicated Incentivized Testnet rewards redemption feature to handle these scenarios.
Spending from Byron wallets
This version of Daedalus does not support spending from Byron wallets before the upgrade to Shelley is completed.
Delegating to a retiring stake pool
Delegating to a retiring stake pool sometimes fails. When this happens, in the last step, the delegation confirmation screen displays the message 'An error occurred', instead of completing successfully.
Stake pool saturation
Stake pool saturation is correctly used and calculated for stake pool ranking. However, due to ongoing work, we are currently not able to display these values correctly in the stake pool details and saturation indicator. We have temporarily removed this feature from the user interface.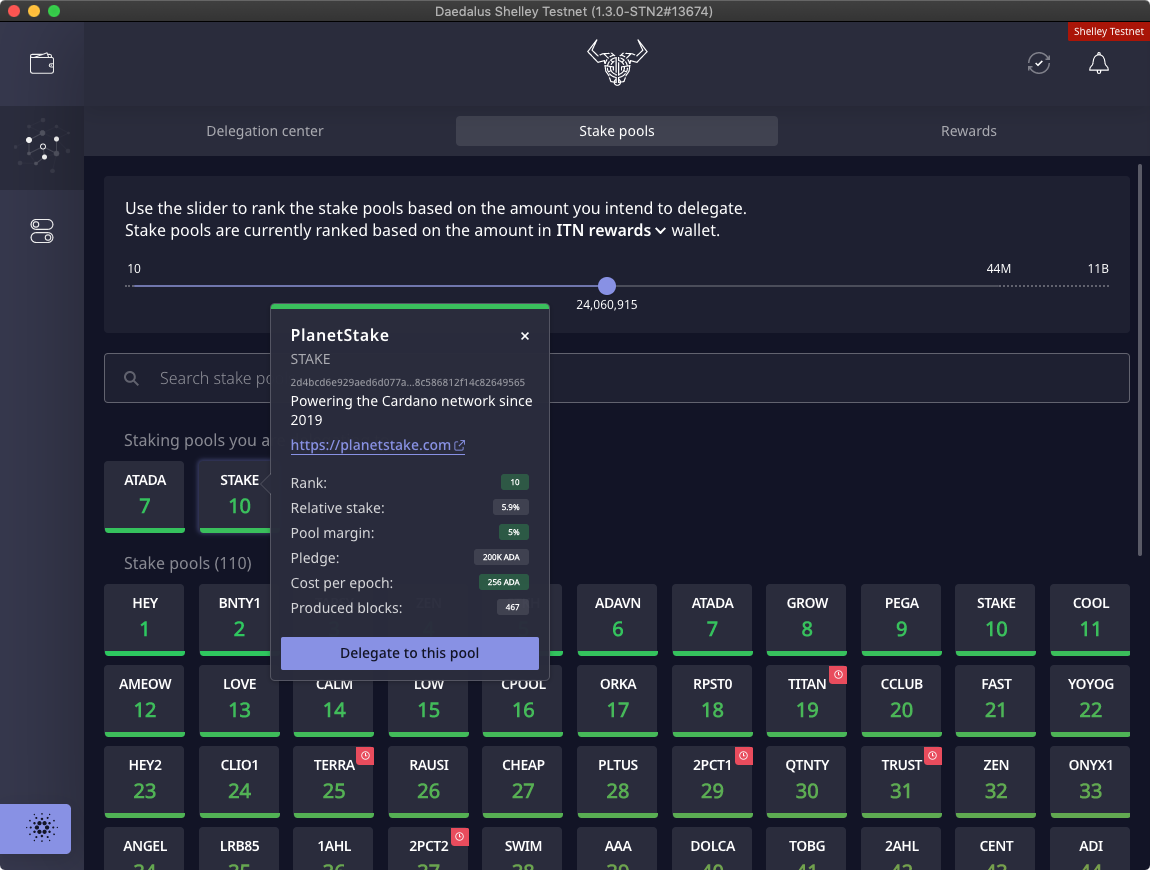 Downloading logs on an older version of Linux
Downloading logs on some older versions of Linux can cause Daedalus to crash.
Incorrect transaction history when spending rewards
When making a transaction in Daedalus that spends rewards, the amount of ada that was moved in transaction details does not include the amount of spent rewards. This means that the amount of ada presented in the transaction can be lower than the amount of ada that was actually moved. This is just a presentation issue, and does not affect the integrity of the transaction.
Example: