Daedalus 2.0.0 - Release Notes
Daedalus 2.0.0
Our first ever Shelley mainnet wallet, Daedalus 2.0.0, brings support for Shelley features, including support for stake pool ranking and delegation. It contains new Shelley-compatible wallets with greatly improved security, a delegation center that provides an overview of Cardano epoch details, as well as delegation preferences for each Shelley wallet. This release also provides a wizard for quick and easy wallet delegation, a stake pools screen with sophisticated ranking functionality, helping you make a more informed decision when choosing where to delegate your stake. It also contains decentralization progress information, and much more.
New Features
Shelley wallets
This version of Daedalus brings support for new Shelley-compatible wallets. These wallets support Shelley features, and stake from these wallets can be delegated to stake pools to earn rewards. These wallets also bring greatly improved security with enhanced underlying cryptography. Security is further improved with 24-word wallet recovery phrases, compared to the 12-word recovery phrases used by the Byron wallets. Shelley wallets do not require manual address generation, and address generation no longer requires providing a spending password. In addition, these wallets always have 20 unused addresses on the receive screen.
Legacy Byron wallets do not support Shelley features. Funds from these wallets need to be transferred to Shelley-compatible wallets. Users with funds in Byron wallets will be notified within Daedalus that the funds need to be moved to a Shelley wallet. The new migration functionality automatically creates transactions to move the funds, effectively emptying the Byron wallet. In some cases, a small amount of funds can remain in the Byron wallet if the unspent transaction outputs are too small to migrate.
Shelley upgrade countdown
The Shelley upgrade needs to be completed before Shelley features become available in Daedalus. A dedicated screen in Daedalus displays a countdown to the Shelley upgrade.
Transition to decentralization
A new Info tab in the Shelley user interface will show the progress status as Cardano transitions from a federated network to a decentralized network, run and maintained by a community of stake pool operators.
Delegation center
The delegation center features details of the current Cardano epoch and the countdown to the start of the next epoch. Epochs on the Cardano mainnet last 5 days.
It is important to understand that changes to delegation preferences take effect after both the current and the next Cardano epochs have been completed.
This screen also displays the delegation preferences for Shelley wallets, including the list of pending delegation preference changes, which displays the epoch in which a certain change will take effect.
Stake pools
The stake pools screen displays the stake pools that have completed all of the registration steps and are not operating as private stake pools.
Small tiles facilitate the inclusion of as many pools on a single screen as possible. The tiles display stake pool ticker symbols, short, (up to 5 characters long) stake pool identifiers, a clearly indicated and color-coded ranking number, and the saturation indicator.
Clicking a tile displays additional information for the stake pool.
The most important feature on this screen is the stake pool ranking. This ranking is based on utility function and game-theory research that calculates which pools will yield the best return of investment if a user delegates to them. This significantly simplifies the process of choosing a stake pool.
Note: This feature is intended for information purposes only. Users should always base their decisions on their own research and assessment of the stake pools and of the risks involved.
Stake pool ranking also takes into account the amount of stake you are planning to delegate, since expected rewards depend on the saturation of each pool. The user interface provides a list of wallets to choose from as the amount of stake, the sum of the stake in all Shelley wallets, or a custom amount of stake can be selected using the slider. Possible values for the amount of stake intended for delegation range from the minimum 10 ada to the saturation point of a single empty pool. A pool's saturation point is calculated from the total amount of stake in the system divided by the desired number of block-producing pools in the network. On the Cardano mainnet, the desired number of pools begins at 150 and will increase with time as the network grows and matures. The total amount of stake is approximately 30 billion ada, so the saturation point for a single pool is approximately 200 million ada. Updates to the stake pool list are animated to highlight how the list changes when the intended amount of stake for delegation changes.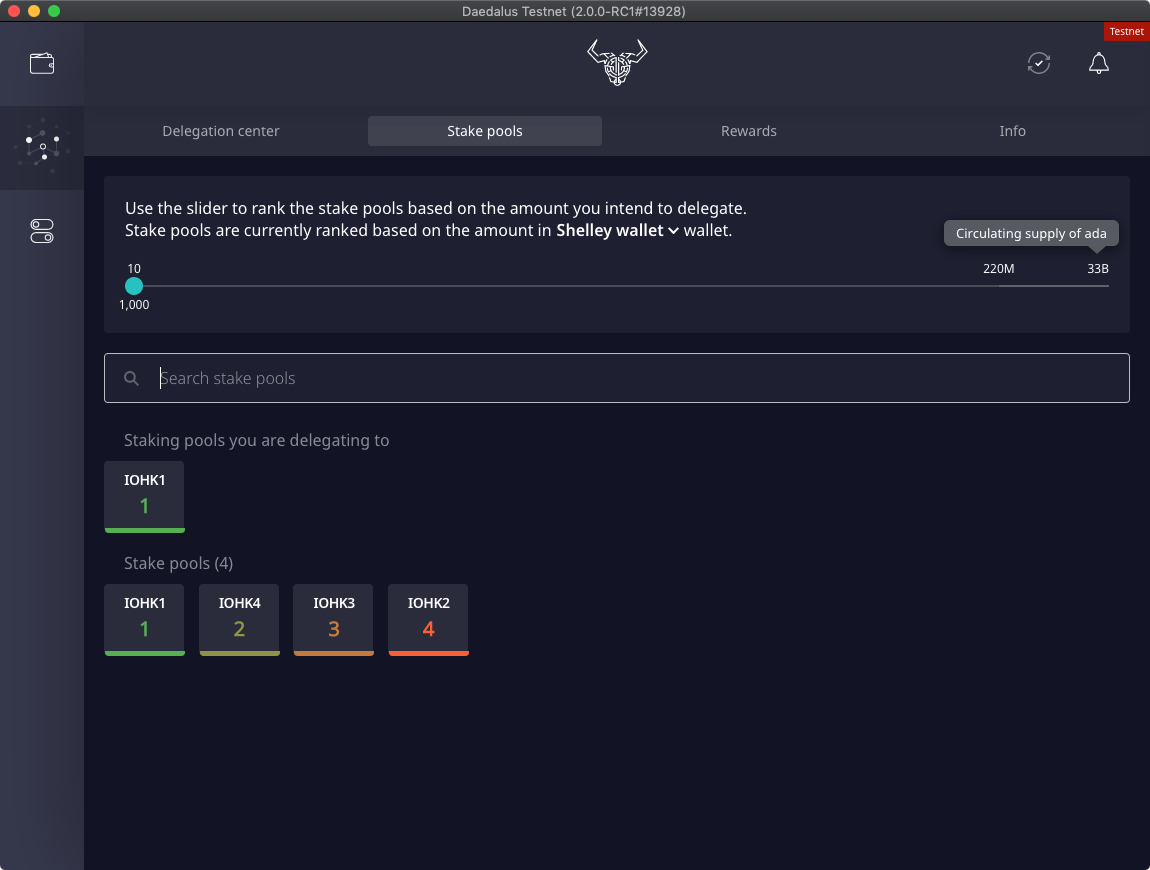 Rewards
The rewards screen displays an overview of the rewards earned per wallet. This screen also provides the ability to download this information as a spreadsheet.
Delegation wizard
The delegation wizard can be launched from the delegation center and from the stake pool details screen. This wizard guides users through wallet and stake pool selection, and final confirmation of their delegation choice.
Ledger and Trezor hardware wallet restoration for Byron legacy wallets
Daedalus supports Ledger and Trezor hardware wallet restoration. Please note: this is not full hardware wallet support that would allow hardware wallets to be used with Daedalus. Currently, only hardware wallet restoration is supported, allowing users to use a hardware wallet recovery phrase to recreate a hardware wallet in Daedalus.
This feature should be used with caution and only by experienced hardware wallets users who understand that they do so at their own risk. It is not advisable to enter hardware wallet recovery phrases in software applications; instead these should be stored safely offline.
This feature was developed for users who are holding ada on Ledger or Trezor hardware wallet devices and need access to those funds prior to the implementation of Shelley support for hardware wallets in Yoroi, AdaLite or an alternative wallet software.
Restoration is supported only for Byron legacy wallets. After a Byron legacy wallet is restored, the funds should be moved to a Shelley wallet, where they can be used for delegation and earning rewards. After funds are moved to a Shelley wallet, the wallet restored from a hardware wallet device should be deleted for security reasons. This ensures that the private keys associated with the hardware wallet device are only stored in Daedalus for a short period of time.
Known Issues
Disabled wallet import feature
The wallet import feature used to import wallets from the previous version of Daedalus and from the Daedalus state directory is disabled in this version of Daedalus. It will be re-enabled in a future update.
Downloading logs on older versions of Linux
Downloading logs on some older versions of Linux can cause Daedalus to crash.