Daedalus 3.3.0 release notes
Release date: 17 February 2021
Daedalus 3.3.0 brings support for the upcoming Cardano protocol update which will deliver native token support to Cardano. This Daedalus update also includes numerous new features, including Project Catalyst Fund3 voting registration, displaying wallet balance converted to a fiat or cryptocurrency of your choice, configurable SMASH servers, transaction details expanded to include metadata, fee processing, ada deposits, importing wallets from 'secret.key' files of old Daedalus versions, and support for Ledger devices configured with a secondary PIN.
New features
Catalyst Fund3 voting registration
Project Catalyst is an experimental programme that brings on-chain governance to Cardano. It enables ada holders to prioritize proposed campaigns for Cardano's growth by voting on which innovative ideas should receive funding. Your participation in this voting programme will influence the direction of Cardano's growth, and you will also be rewarded with ada for your participation. $70.000 worth of ada will be distributed between ada holders who register for voting.
Project Catalyst is divided into a series of fund releases, which are distributed every six weeks. Fund3 is the third iteration of funding and voting registrations for Fund3 start on the 17th of February 2021 at 19:00 UTC.
Click the voting icon to access the Fund3 voting registration process. Read these instructions to learn how this process works.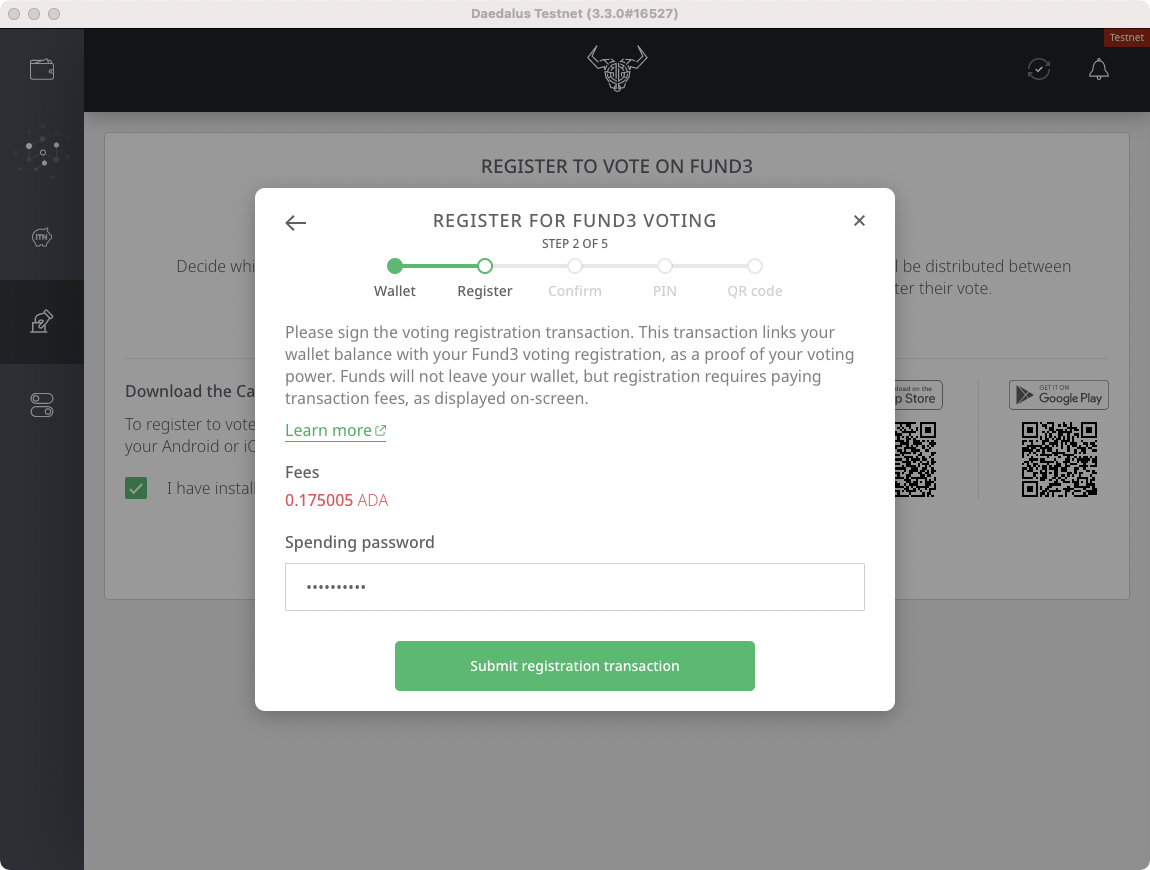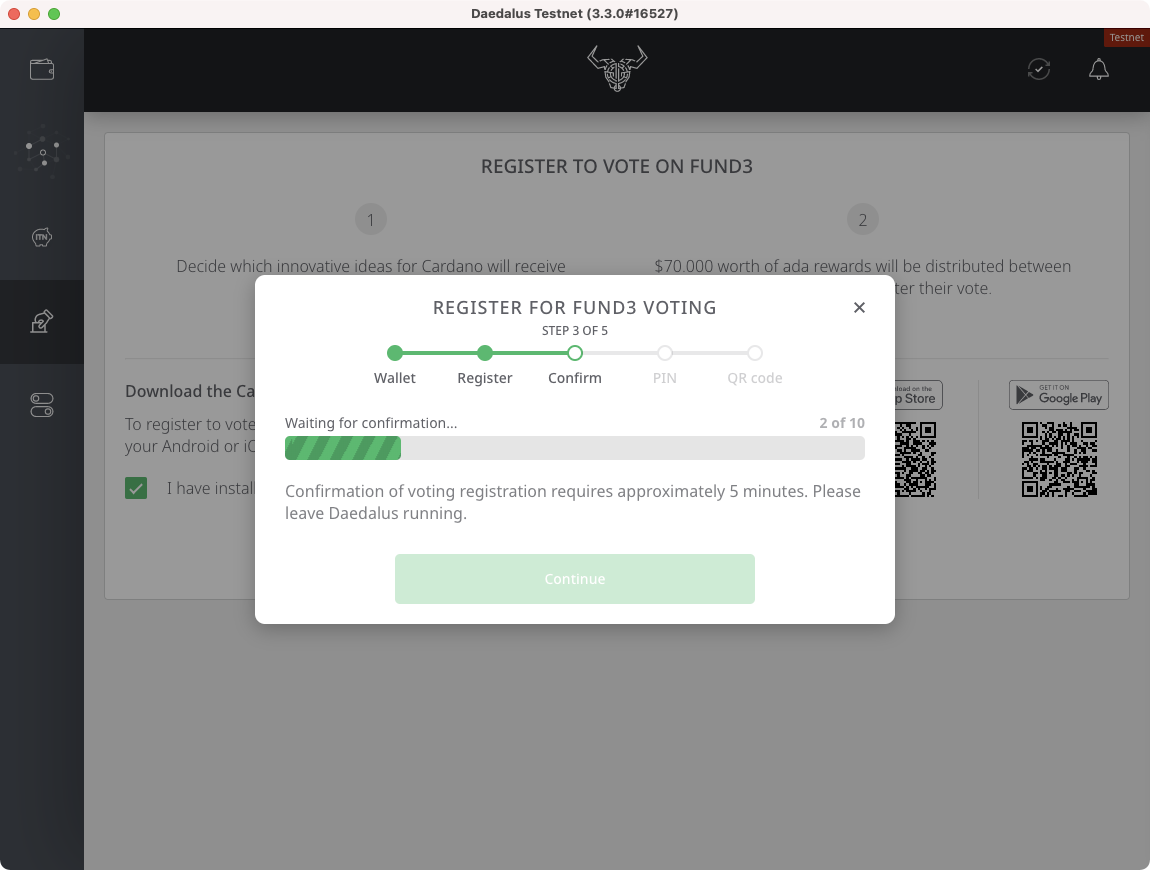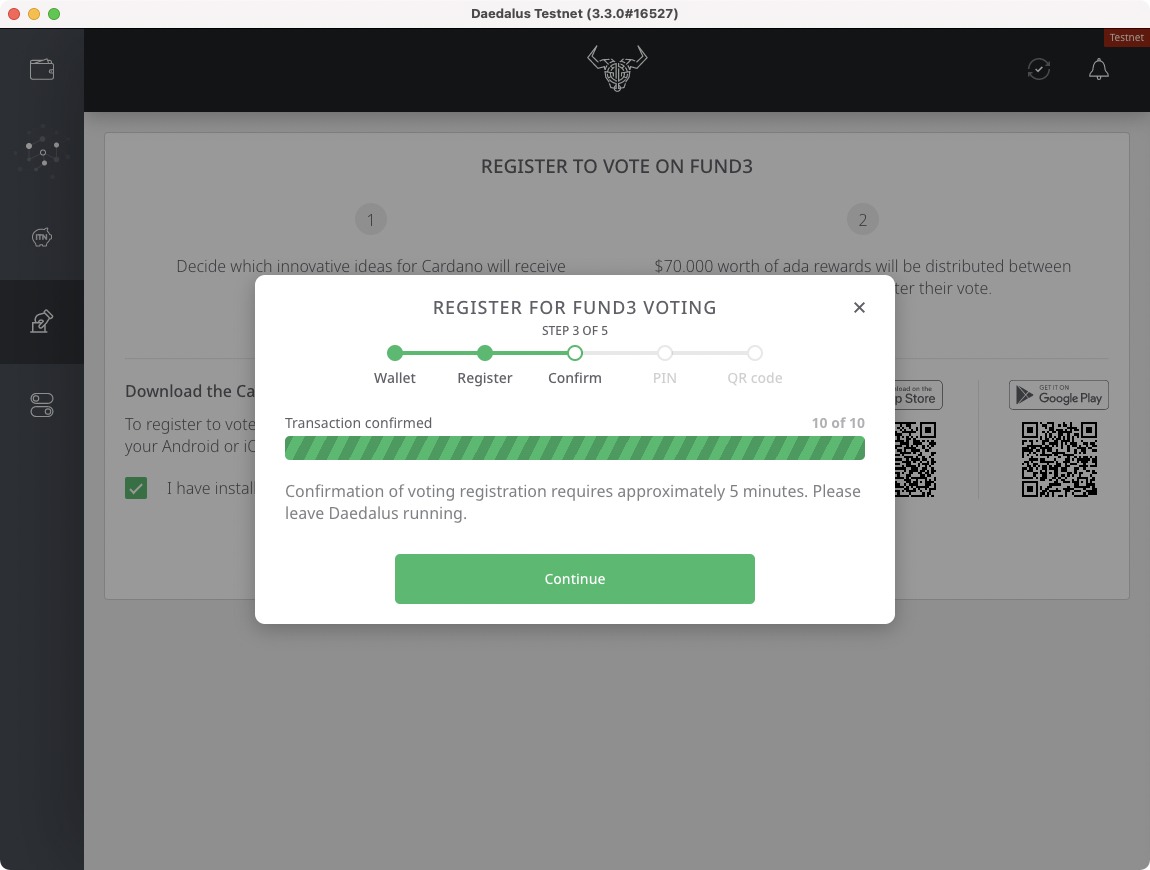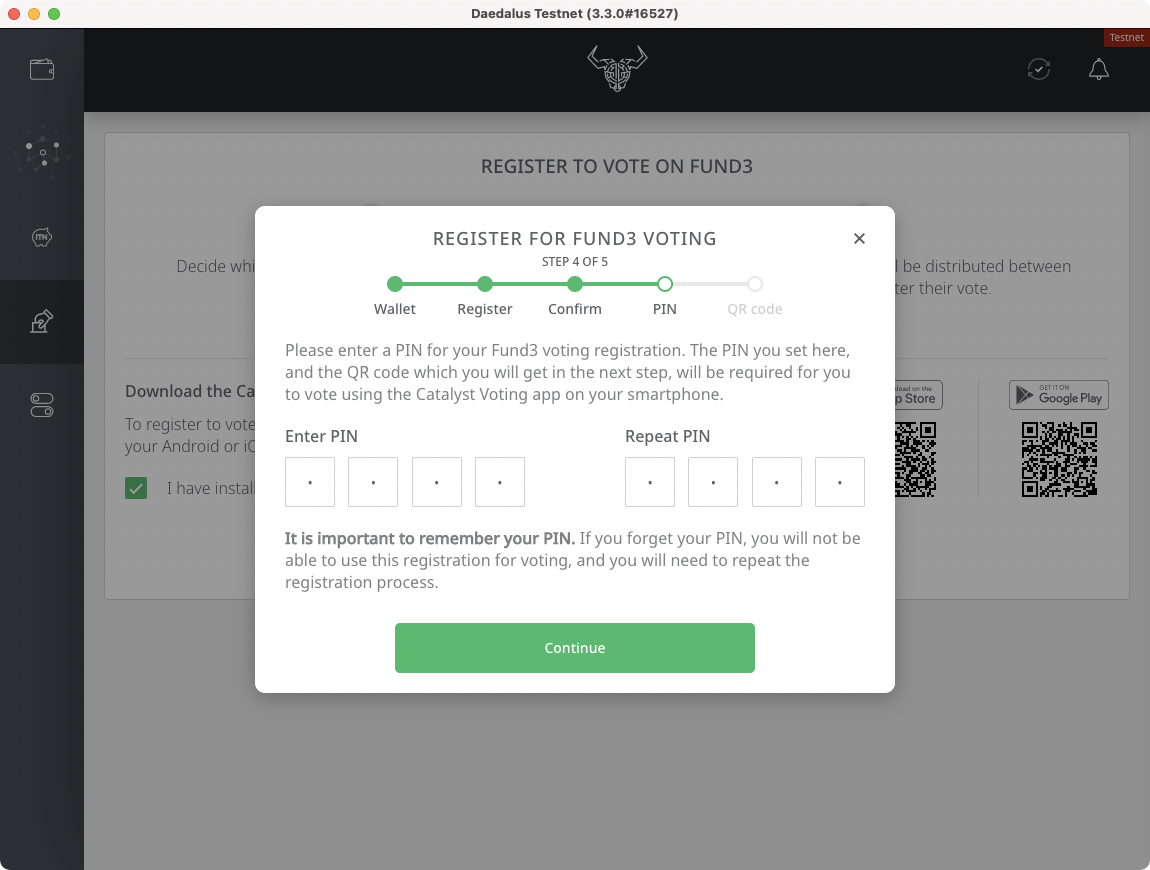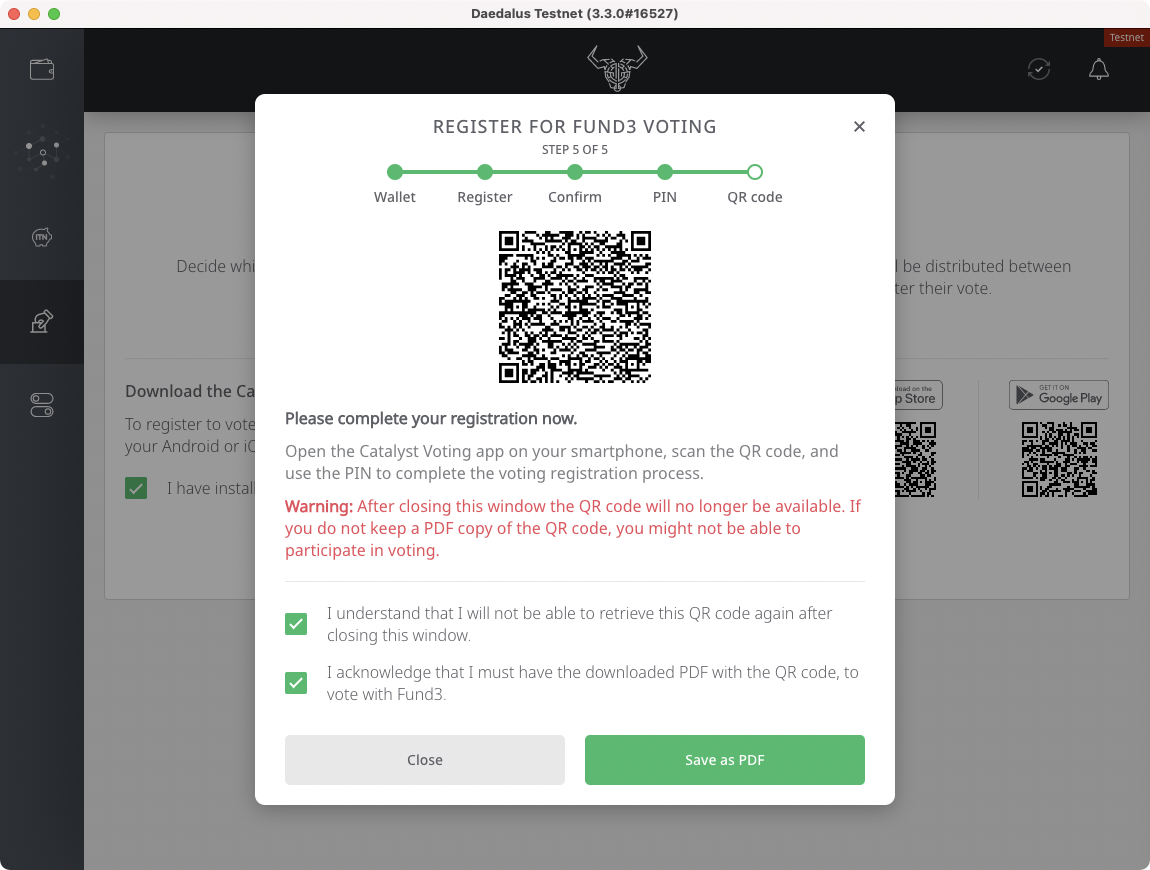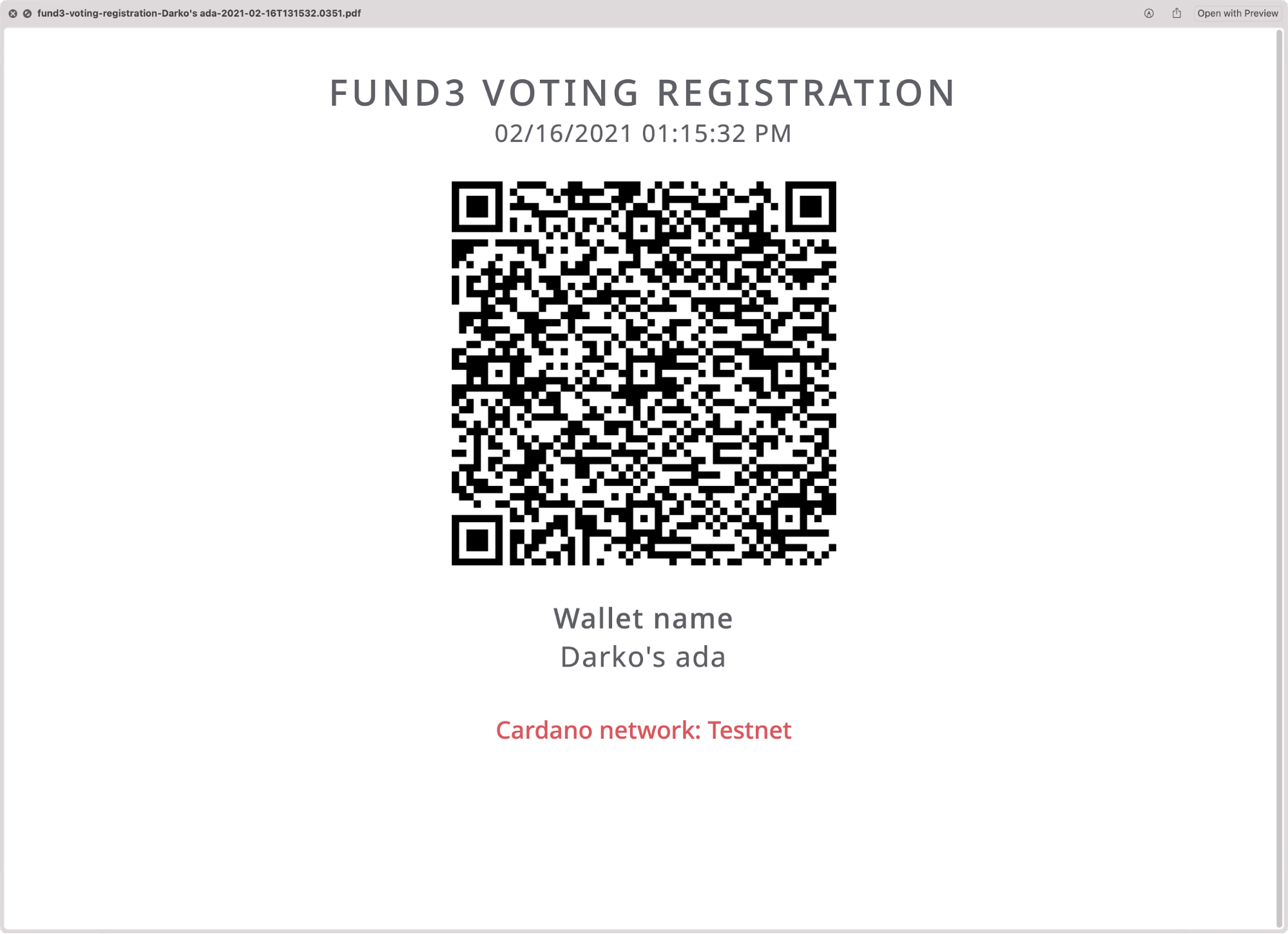 Converted ada balances
Daedalus can now display the converted value of your wallet balance in a supported fiat or cryptocurrency of your choice. Please use the calculated conversion value only as a reference.
Conversion rates are provided by CoinGecko, without any warranty. Converted balances reflect the current global average price of ada listed on active cryptocurrency exchanges, as tracked by CoinGecko.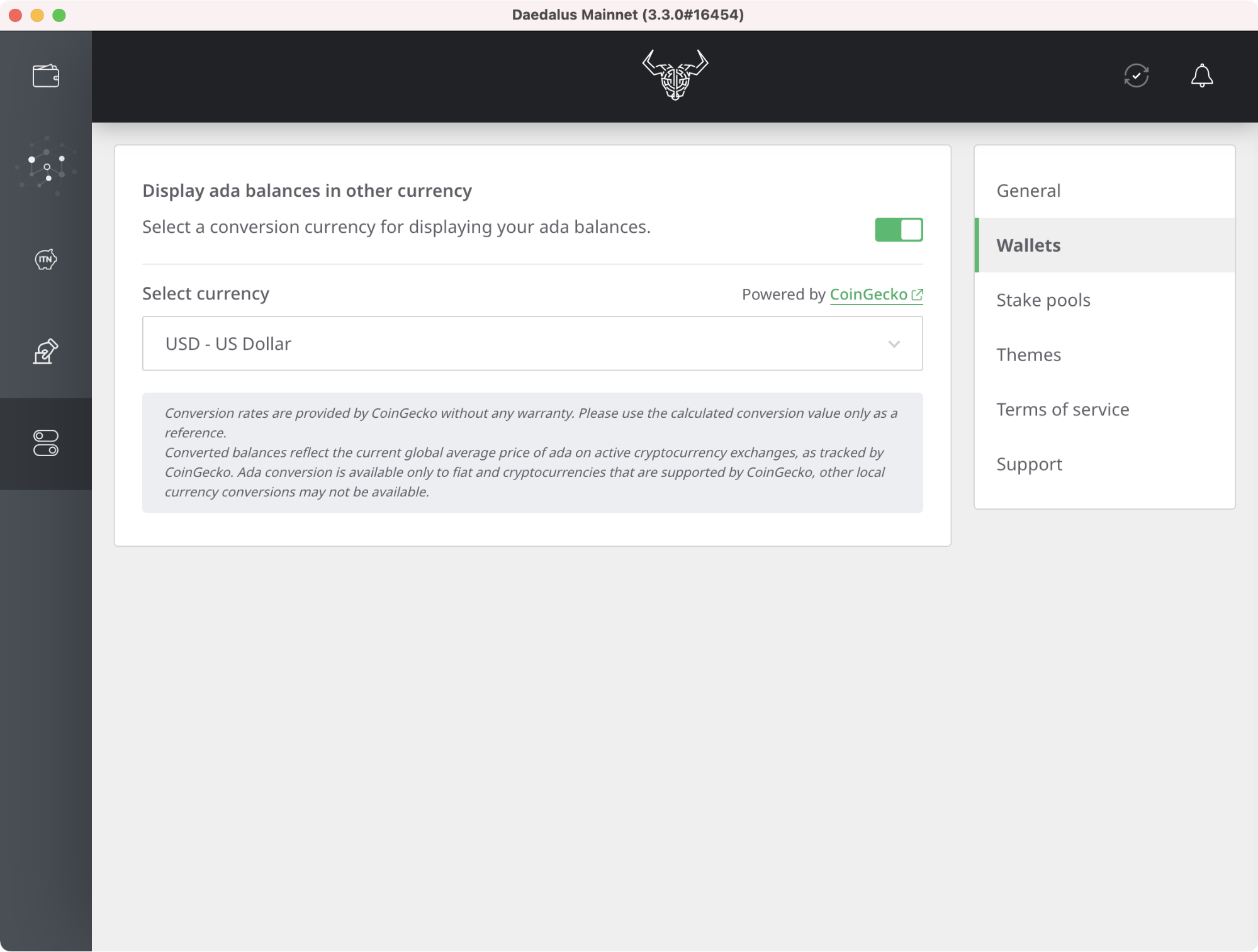 Configurable SMASH servers
Daedalus uses Stakepool Metadata Aggregation Servers (SMASH) to fetch moderated lists of stake pools. By default, the SMASH server operated by IOHK is used. You can now configure Deadalus to use any community-operated SMASH server, instead of using the default server.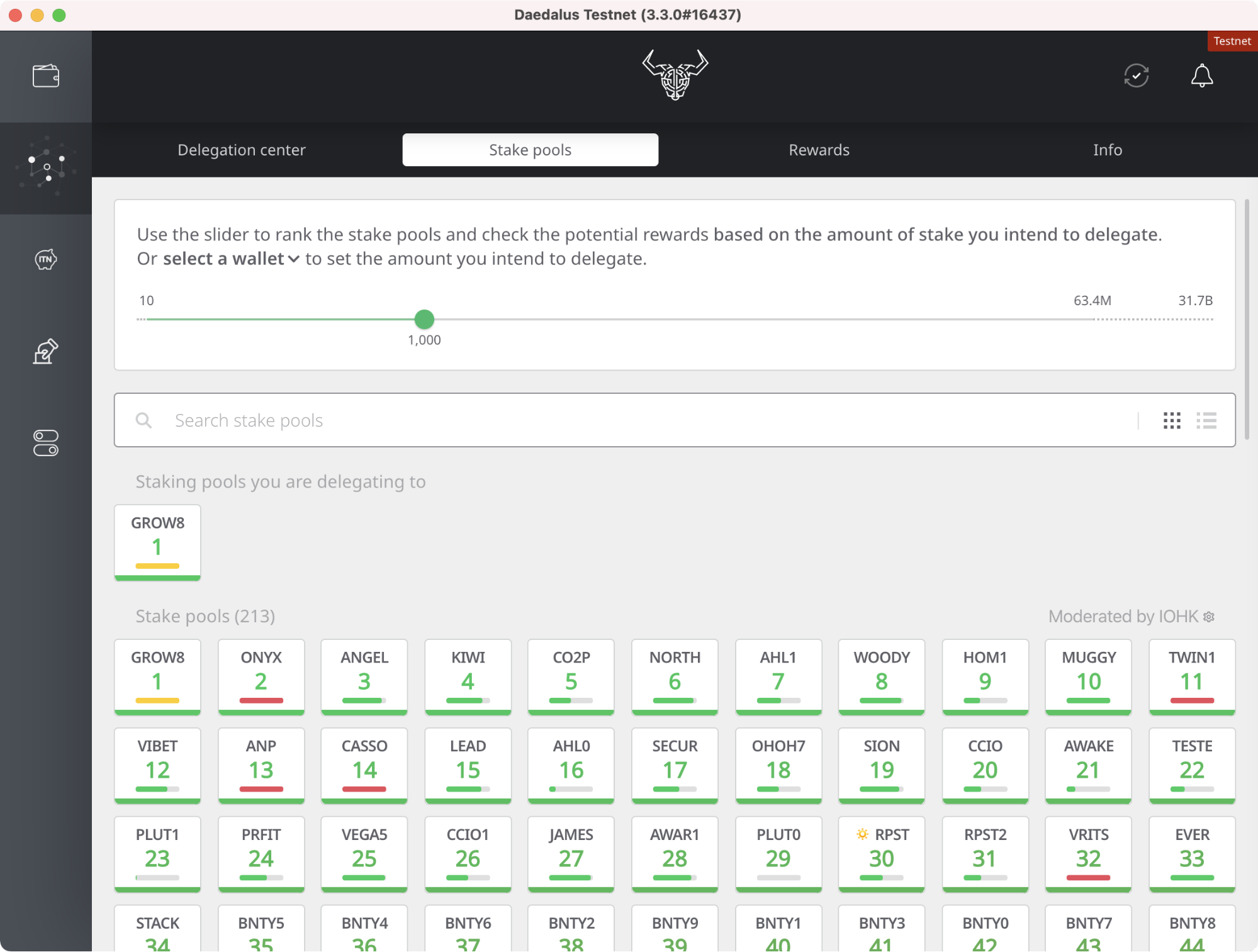 Fees and deposits in transaction details
Cardano transactions can contain ada deposits, like the deposit of 2 ada that is incurred when a wallet is delegated for the first time. Daedalus now displays deposit and fee information in the transaction details.
Transaction metadata
In addition to containing ada, and soon, other Cardano native assets, Cardano transactions can also contain additional metadata information. Transaction metadata can provide additional context for transactions, such as buyer and seller details, the time of the deal, product manufacturer information, supply conditions, and so on. Metadata is also being used for Project Catalyst voting.
Daedalus can now display metadata in the transaction details.
Wallet import
The wallet import feature has been re-enabled so that you can import wallets from `secret.key` files located in state directories of old Daedalus versions (Daedalus version 0.15.1 and previous). Importing wallets from state directories of newer Daedalus versions (Daedalus 1.0 onwards), is currently not supported.
The wallet import feature imports wallets for which you have lost your wallet recovery phrase, but you still remember your spending password.
If you are using this feature to recover funds from wallets for which you have lost your recovery phrase, please ensure you first create a new wallet and move all of the recovered funds to the new wallet. Keep your wallet recovery phrases safe and secure!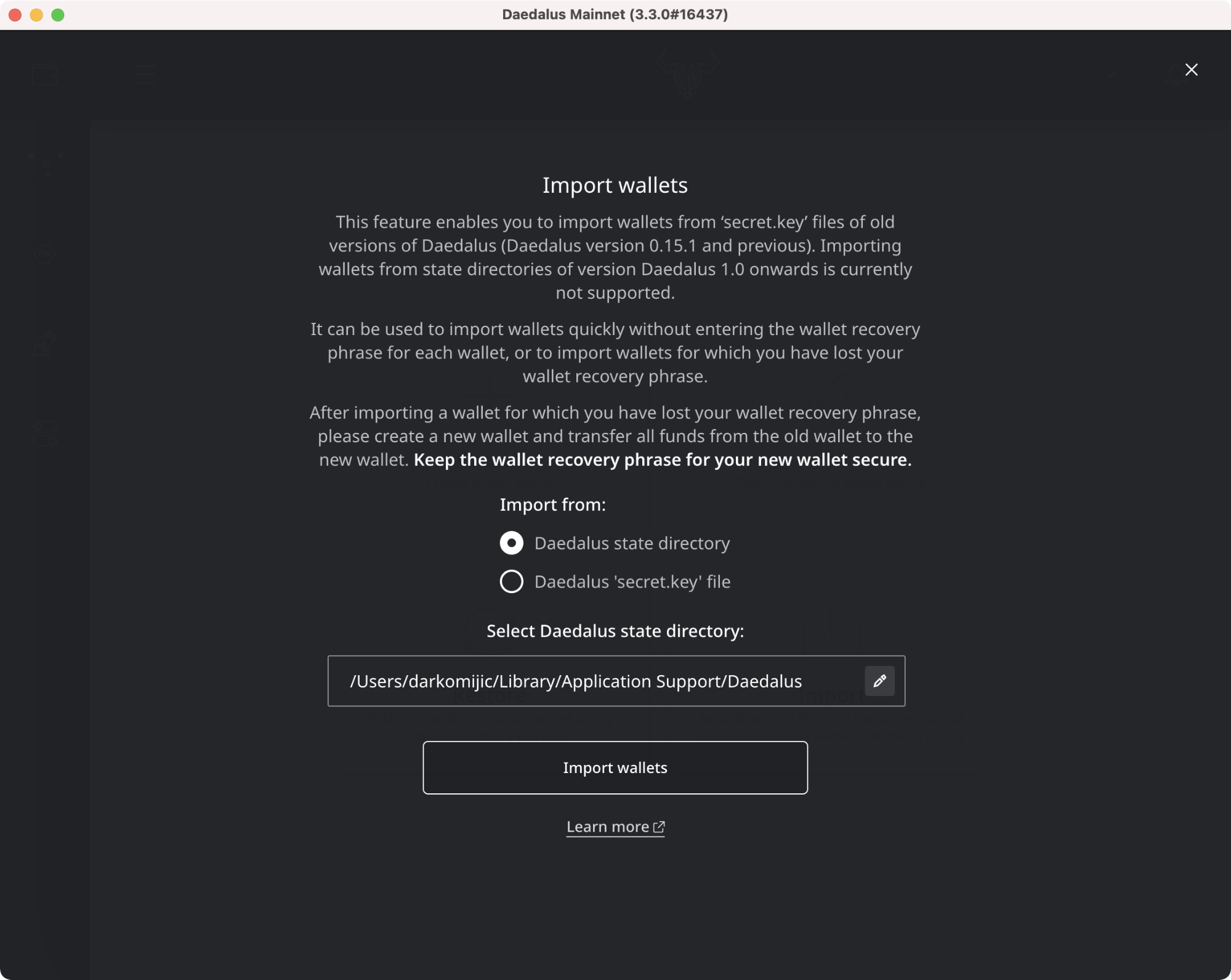 Hardware wallet support improvements
Ledger hardware wallet devices that are configured with a secondary PIN can now be used with Daedalus. These Ledger devices provide two sets of wallets associated with the same wallet recovery phrase.
To improve security and reliability Daedalus now also fetches a public key from Ledger and Trezor hardware wallet devices on each interaction with the hardware wallet device.
Fixed issues

Automatic updates
Automatic Daedalus updates sometimes failed when Daedalus started updating to a version, but a newer version became available during the update process. This issue has been resolved.
Logs and CSV downloads on Linux
Downloading logs and transaction history did not always work in Daedalus for Linux. This issue has been resolved.
Sorting on the 'Rewards' screen
Row sorting on the rewards screen did not work properly. This issue has been resolved.